Myleene Klass pregnant
Baby joy for the Hear' Say singer, who announced her pregnancy on Twitter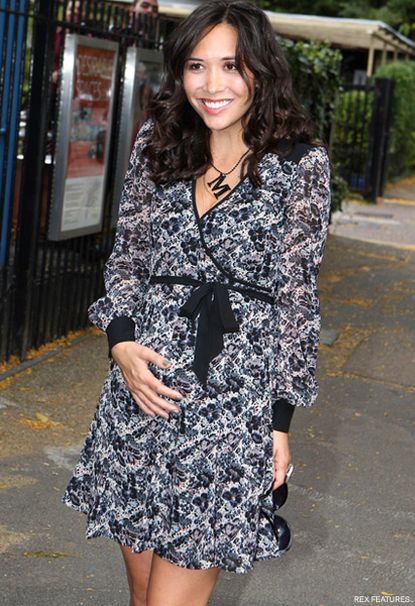 (Image credit: Rex Features)
Baby joy for the Hear' Say singer, who announced her pregnancy on Twitter
M&S model Myleene Klass has revealed she's pregnant, announcing her baby news to fans on Twitter over the weekend.
SEE MORE STYLISH CELEBRITY BABY BUMPS HERE!
Myleene Klass – who is thought to have had her three-month scan just last week - told followers she was 'beyond excited', and 'so happy' to be expecting.
'Woo hoo! I'm pregnant! So happy!!X' she excitedly announced on the social networking site yesterday.
And it seems the star was inundated with messages of congratulations, as she Tweeted several messages of thanks to well-wishers. 'Thank you so much for all the lovely messages! Beyond excited! At Wembley for Must be the music..Introduce bump to some super musicians!' 'Crikey, still reading all your msgs. Bumps gona have a lot of aunts and uncles! X' she later added.
Myleene Klass also spoke of her happy news as she appeared on Daybreak earlier this morning, revealing she's 'relieved' to have the news out in the open.
'I'm so excited, and so relieved to have the news in the open,' she said. 'You keep running across the room because you are feeling sick and looking green - I thought people were going to guess.
'I've already got all the same cravings - cheese, starchy food, orange juice by the litre. And I'm even more tired this time around because obviously I've got Ava too.'
Myleene Klass – who is engaged to ex-Hear' Say bodyguard Graham Quinn and has a three-year-old daughter, Ava – has often spoken of her wish to have a large family.
'Ava said to me the other day, "I miss my sisters",' she said earlier this year.
'I said, "Oh really? How many sisters do you have – or do you want?". She said she'd like two. I'd love her to have seven sisters. I don't think I could love anybody as much as I love Ava, but I have two siblings and I don't feel my mum loved any of us less.'
Congratulations, Ms Klass!
BEST DRESSED CELEBRITY BABY BUMPS
Celebrity news, beauty, fashion advice, and fascinating features, delivered straight to your inbox!