Mariah Carey talks pregnancy on US chat show
The star opened up on expecting, and how her hubby is trying to coax her into flats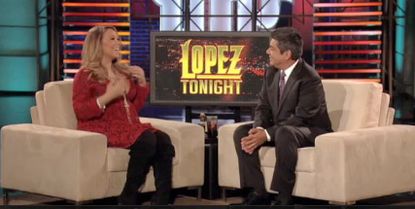 The star opened up on expecting, and how her hubby is trying to coax her into flats
Less than a week after confirming she's expecting, Mariah has opened up on her pregnancy on a US chat show, revealing her husband Nick Cannon has been trying to convince her to ditch her towering heels, and wear more flat shoes.
MOST STYLISH CELEBRITY BABY BUMPS
The worst kept secret in showbiz history, Mariah announced she was expecting her first child last Thursday, following months of speculation.
And yesterday she appeared on the Lopez Tonight chat show in the US, to talk about her baby news, and promote her Christmas album.
Mariah revealed her excited husband has spoilt her rotten during the first few months of her pregnancy, but let slip he is on a mission to persuade her to swap her trademark leg-lengthening platforms for comfy flats.
'Nick got me all these flat shoes and is really trying to be responsible about it,' she said.
'He came home with all these bags which was sweet and I'm looking at them trying to be nice about it because I'm a little specific about my stuff.
'So they're really cute but every one of them had the thing between the toes like regular flip flops and that just doesn't work for me. My toes don't like it.
'But I do need to learn how to wear them because ever since I was little I would walk on my tip toes and I don't know why it's how my feet are.
'They just need to put some wheels on them for me and I'll be good!'
Rumour has it, chat show host George gave away another showbiz secret during the interview, when he referred to Beyonce's 'unborn baby'.
In a message directed to Mariah's tummy, the hilarious host wished the baby good luck, adding the Carey-Cannon addition would be 'musical royalty', and saying: 'Plus I've already arranged for you to be married off to Beyonce and Jay-Z's unborn baby.'
The rumour mill has been alight with talk the star and husband Jay Z are expecting their first child, but so far the pair have denied reports.
Celebrity news, beauty, fashion advice, and fascinating features, delivered straight to your inbox!