Marc Anthony: 'I'll always love Jennifer Lopez'
The actor has opened up in a rare interview – his first since their separation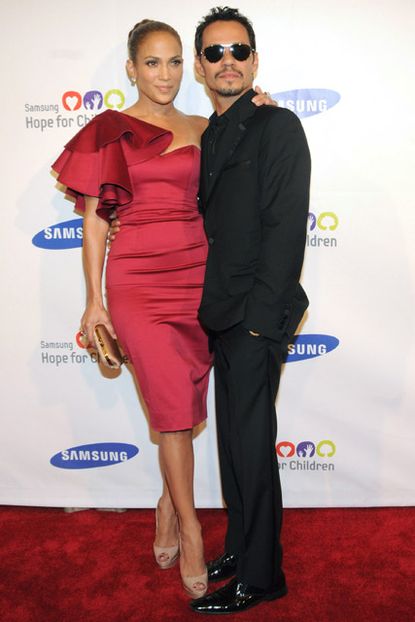 (Image credit: Rex Features)
The actor has opened up in a rare interview – his first since their separation
Marc Anthony has opened up on his split from super-songstress Jennifer Lopez in a revealing new interview, just six weeks on from their separation.
In the news exclusive, set to air on American ABC's Nightline show tonight, the stony-faced actor told host John Quinones: 'I'll always love Jennifer,' and strenuously denying reports of an affair with Will Smith's wife Jada Pinkett Smith.
JENNIFER LOPEZ & MARK ANTHONY: RELATIONSHIP IN PICS
Jen and Marc announced their shock split back in July, and while both have remained decidedly quiet on the subject until now, reports suggest the break-up could have been fuelled by anything from Marc's controlling behavior and attempt to stifle Jen's sexy style to infidelity and her diva-ish behaviour.
Instead, the Latino star set the record straight, saying the pair simply fell out of love, and make the decision to separate jointly.
'I'll tell you that it wasn't something sensationalistic happening,' he revealed.
'It was a realisation on both our parts. So you know it wasn't shocking. These things happen. It was a decision that we made jointly.'
Marc was also quick to blast reports he and Jen have been at war, saying the split has been completely amicable.
'This is not a funeral. This is not a burial,' he added. 'This is just two people who came together and just realized – and so I'm saying that it wasn't sustainable the way it was, and that's that.'
WATCH sneak peek of Marc's new interview here…
What are your thoughts on Jen and Marc's shock split? Let us know your thoughts in the comments box below.
JENNIFER LOPEZ & MARK ANTHONY: RELATIONSHIP IN PICS
Celebrity news, beauty, fashion advice, and fascinating features, delivered straight to your inbox!