Lindsay Lohan's shocking new photo shoot
The Mean Girls star has caused outrage by posing with a gun in a controversial new photo shoot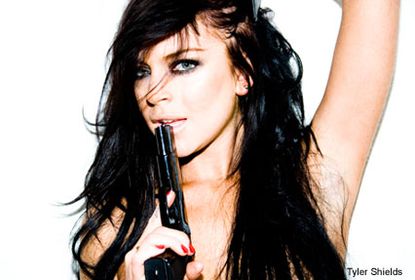 (Image credit: Tyler Shields)
The Mean Girls star has caused outrage by posing with a gun in a controversial new photo shoot
Just when we think nothing else can surprise us, Mean Girls star Lindsay Lohan has shocked again with a controversial new photo shoot.
MORE SHOCKING CELEBRITY SCANDAL
The pictures - taken by celebrity photographer Tyler Shields - show a scantily clad LiLo posing suggestively with a gun.
And there's more.
The troubled actress also poses covered in blood, with one shot showing the star on her back, with her legs flung over her head.
Lindsay has already had a controversy-filled week, reportedly throwing a glass at ex-girlfriend Samantha Ronson in a packed LA bar.
And this shoot comes as a new low for the star.
The series of pictures - entitled The Dirty Side of Glamor - have caused outrage among her fans.
And after the star posted some of the shots on Twitter, she faced a massive backlash from followers.
'Try to keep it classy, not more softcore porn with some guy draped over you,' one Tweeted.
'It's not softcore porn hunny, it's called ART' Lindsay angrily posted back.
Photographer Tyler Shields has been standing by the star during the war of words, defending her on his website.
'Everyone has an idea of Lindsay Lohan and last night I had the pleasure of working with her.
'She is a huge art lover and simply wanted to create some and this is exactly what we did.'
What do you think of Lindsay's latest shoot? Is it art, or has she gone one step too far? Let us know your verdict in the comments box below.
2010'S MOST SHOCKING CELEBRITY SCANDALS
Celebrity news, beauty, fashion advice, and fascinating features, delivered straight to your inbox!