Lindsay Lohan fuming after missing out on Black Swan role
The actress had reportedly set her heart on Natalie Portman's Oscar-winning part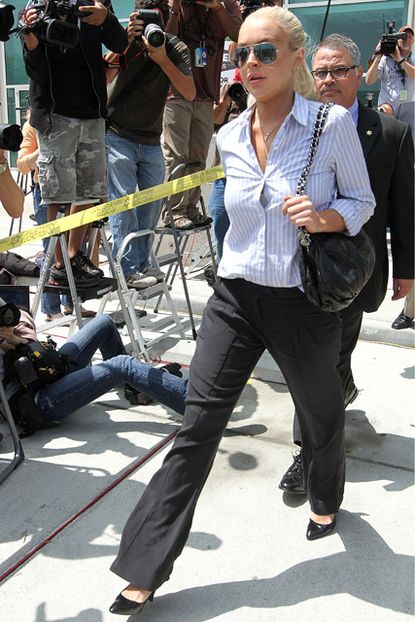 (Image credit: Rex Features)
The actress had reportedly set her heart on Natalie Portman's Oscar-winning part
Uh-oh Li-Lo. Just weeks after being released from house arrest in LA, Lindsay Lohan has hit the headlines once again, this time for her diva antics on set.
After taking part in a lavish photo shoot for Plum Miami Magazine, the starlet backed out of an accompanying interview at the eleventh hour, prompting the magazine's writer Jacquelynn Powers to dish the dirt on Miss Lohan's bizarre behaviour and outrageous demands on the day.
Aside from arriving late, 'constantly looking for drama' and refusing to leave her paid-for hotel suite, the writer also told how the actress was 'indignant' she missed out on the lead role in Natalie Portman's Oscar-winning ballet flick, Black Swan.
According to Powers furious Lindsay openly spoke of how she 'took ballet until she was 19 and was indignant that she was not considered for the movie Black Swan.'
Right then.
The writer also spilled the beans on Lindsay's outrageous antics, claiming she was rude to staff and used her 'name' to order people around.
'As we pulled up to the Fontainebleau, a bright-orange parking cone was blocking the entrance. Not accustomed to waiting, apparently, she lowered the car's window and shouted "Move that cone. I'm Lindsay Lohan,"' she recalls. 'And it was done.'
Powers added that Lindsay spent the day sipping wine – whilst discussing her sobriety – and went out of her way to make sure she was the centre of attention.
'(She was) constantly looking for drama, whether it was picking a fight with her younger sister...or freaking out over a lost pair of Zanotti heels,' she added.
The final straw came when, despite refusing the planned interview,Lindsay declined to leave a lavish hotel suite booked at the magazine's expense.
'Plum covered all Lindsay's expenses, including airfare for her and her family/entourage, lodging at the iconic Raleigh hotel in the penthouse suite and all transportation costs,' Jacquelynn wrote.
'Monday morning was supposed to be check-out time, but Lindsay and her posse refused to leave,' she added. 'It was like watching the lights come on at a nightclub after-hours -- not pretty.'
Oh dear.
Do YOU think Lindsay should have taken the lead Black Swan role? Let us know your thoughts in the comments box below.
Celebrity news, beauty, fashion advice, and fascinating features, delivered straight to your inbox!