Kitty Brucknell 'Amelia Lily's X Factor return is unfair'
Axed X Factor contestant Kitty Brucknell has slammed Amelia Lily's return to the show as 'unfair' and a fix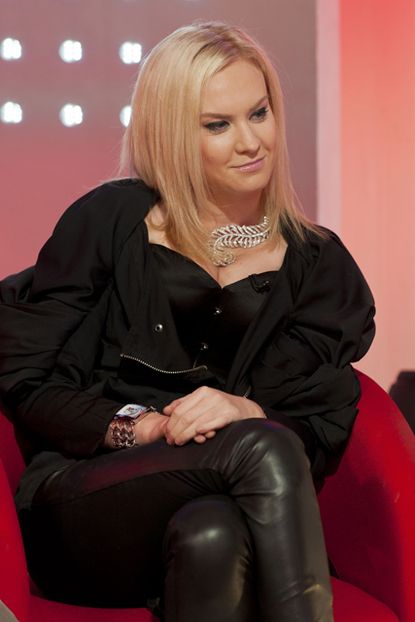 (Image credit: Rex)
Axed X Factor contestant Kitty Brucknell has slammed Amelia Lily's return to the show as 'unfair' and a fix
She lost the sing-off on Sunday night's X Factor show and now axed contestant Kitty Brucknell has slammed Amelia Lily's return to the show as 'unfair' and a fix.
SEE THIS YEAR'S X FACTOR PHOTOS
Kitty Brucknell, who has been off the show for less than 24hours, is suggesting X Factor producers planned Amelia Lily's come-back all along.
Talking in an interview on This Morning, when asked if she thought it was fair to bring back an eliminated act, the last over-25's contestant said, 'It is a little bit weird, all of us felt very two sided about it.
'We worked hard for six weeks and suddenly she's just come back in the competition.'
Fueling thousands of X Factor conspiracy theorists, Kitty added, 'You never know, that could have been their intention all along.'
When the X Factor website published a story Amelia Lily had won the vote-in an hour before phone lines closed, angry and confused fans took to Twitter branding it 'Fix Factor'.
Although Kitty admitted she thought it was a great opportunity for Amelia Lily to be back in the show, she felt she had taken potential votes from her and the other girls, including Misha B, who was also in the bottom two.
Adding more aggravation to the remaining X Factor line-up the 26-year-old revealed that her mentor Louis Walsh had wanted her to swear at Kelly Rowland for not keeping her in.
Kitty ended up singing Lady Gaga's Born This Way a-cappella as a farewell after losing the sing-off, but admitted to host Dermot O'Leary that Louis had suggested other ideas, including 'jumping up on the table and sticking your middle finger up to Kelly.'
Brucknell was reportedly told by Lady Gaga in the pop star's dressing room after the show to get on the road and start performing straight away.
Taking Gaga's advise, Kitty's first gig will be on Saturday night at G-A-Y club in London's Soho, which she promised her fans would be 'a real show'.
Amelia Lily who has been voted back on to the show as Frankie Cocozza's replacement is now the bookies' favourite to win the competition.
Do you think it was fair Amelia Lily came back? Tell us what you think in the comments box below...
Celebrity news, beauty, fashion advice, and fascinating features, delivered straight to your inbox!