Kelly Osbourne defends mum Sharon in angry Twitter tirade
The furious star let rip a bizarre seven-post long rant on the social networking site, after the release of Dannii Minogue's autobiography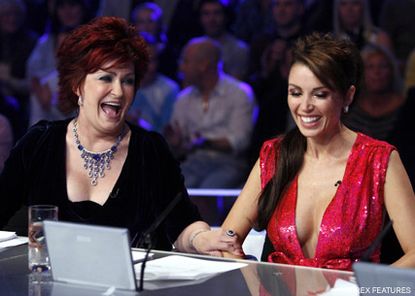 (Image credit: Rex Features)
The furious star let rip a bizarre seven-post long rant on the social networking site, after the release of Dannii Minogue's autobiography
Furious Kelly Osbourne let rip a bizarre seven-post-long rant on Twitter over the weekend, defending mum Sharon over claims made in Dannii Minogue's new book.
SEE MORE DANNII MINOGUE PICS HERE!
The youngest Osbourne branded Dannii a 'poor middle aged victim', and called her 'the devil' in the angry Twitter tirade, rubbishing claims her mum was a bully on the show.
This follows the release extracts from Dannii's Minogue's soon to be released autobiography, Dannii: My Story, in which she claims the famous Mrs Osbourne reduced her to tears on her first day in the new X Factor job.
The Project D designer reveals Sharon 'bowled in' and 'demanded to know why I hadn't gone to the press to tell them what a nice person she was' on her first day, adding: 'The minute she left, I burst into tears. I'd managed to hold it together while Sharon had been there, but once she'd gone I couldn't hold it in, and I wept into my hands.
'I wasn't crying because I thought there was any truth to what she'd said - I was crying because someone I had previously looked up to had bawled in my face and ruined my big night.'
Now Kelly Osbourne has waded into the row, rubbishing Dannii's claims and warning her to 'shut her mouth and concentrate on motherhood'. 'The best thing to happen to dannii's career was that my mother hated her she needs to shut her mouth and concentrate on motherhood!,' she Tweeted furiously on Sunday.
'i will be the first one to admit that my mother did not play her cards right when came to dannii but trust me when i say dannii is the devil,' she added.
'dannii you are so lucky that i respect simon enough to not tell the truth about what really happened. wa wa wa you poor middle aged victum'
But it seems Kelly's comments didn't go down too well with Dannii's fans, as the star then tried to (sarcastically!) explain herself. 'to the 12 dannii fans out there i ask you this question what would you do if someone wrote a book of lies about your mother?,' she wrote. 'i think you all forget i was there i saw everything and if my mum was the "bully" why was she the one the left the show?
'sorry i have just had to deal with this bulls**t 4 years and i have kept my mouth shut but i am sick and tired of her lies enough is enough.'
Kelly ended her rant with a final irate message, reading: 'what the f**k is wrong with some of you people its not just some friend i am defending its my MOTHER!!!!!'
Oh dear.
What are your thoughts on Dannii and Sharon's X Factor fight? Is there truth to Dannii's claims? Let us know your thoughts in the comments box below.
DANNII MINOGUE STYLE HIGHS AND LOWS
Celebrity news, beauty, fashion advice, and fascinating features, delivered straight to your inbox!