Katy Perry's parents say her divorce is a 'gift from God'
Could Russell Brand's lewd jokes about the singer's religious parents be the reason behind their split?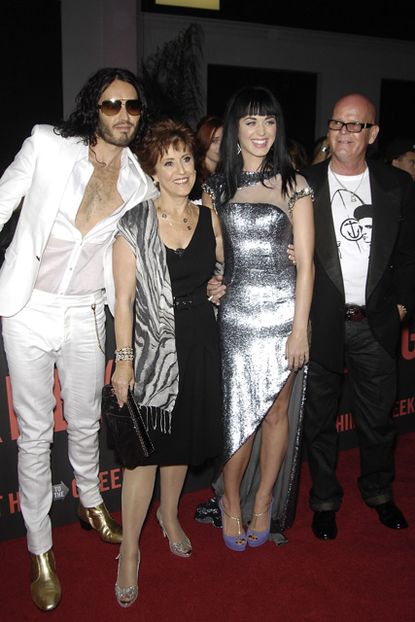 (Image credit: Rex)
Could Russell Brand's lewd jokes about the singer's religious parents be the reason behind their split?
Katy Perry's parents may be church pastors but, contrary to the Christian faith, they have revealed they believe Katy and Russell Brand's divorce is a 'gift from God'. RUSSELL BRAND DIVORCES KATY PERRY The singer's evangelical parents, Keith and Mary Hudson, preached for over an hour to 300 worshippers at their local service, during which they suggested Katy and Russell's split was sent by God as a gift to help them fill churches.
In the first service since the divorce, it was reported by The Sun that Katy's mum, Mary, joked to the packed church: 'I'm sure Katy is trending on the internet just to get you to church tonight.
'I mean all over the world, who knows how God is bringing them in? The most important thing is you are here and God wants to put the fire in you in 2012.' Her comments come after it's been claimed that Russell could not stop mocking her and her husband's extreme Christian views at family get-togethers.
Brand's supposed digs at his religious in-laws were revealed in Katy's biography, A Life of Fireworks, by Chloe Govan.
And a friend of Katy's apparently told The Sun: 'Russ was forever making lewd jokes at the dinner table and poking fun at her parents' beliefs. He managed to restrain himself in the beginning - just. But as the marriage progressed, he got worse and kept winding up her family.'
Katy's dad, Reverend Keith Hudson, grew emotional during the service in Westlake, Ohio, and told the church congregation not to condemn his daughter and the divorce.
He said: 'I love my daughter and I will always love her. Stop being judgmental and critical. Do not close the doors to your loved ones, especially your children.'
Meanwhile, to stop any awkward 'bumping into your ex' moments, Russell has been mysteriously uninvited from The People's Choice Awards, where Katy hopes to pick up a gong next Wednesday.
A source told the Mirror: 'It was always going to be awkward for organisers in any case after their shock decision to split. But in order to avoid any awkwardness or confrontation Russ is no longer on the list.' KATY AND RUSSELL'S ROMANCE IN PHOTOS
RUSSELL BRAND TO MAKE £20 MILLION FROM DIVORCE?
Celebrity news, beauty, fashion advice, and fascinating features, delivered straight to your inbox!