Kate Moss's original Lucian Freud tattoo worth millions
Kate Moss's body is a work or art. Literally.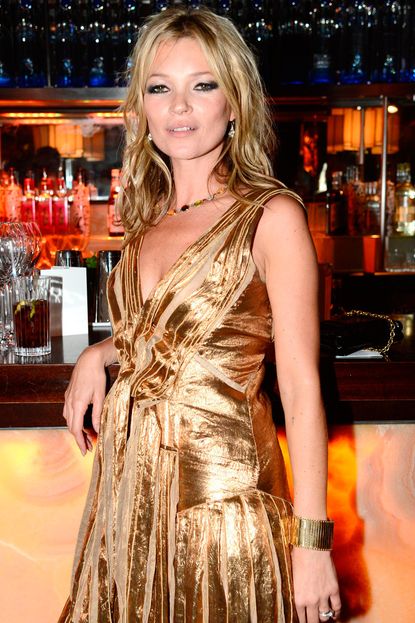 (Image credit: Kate Moss at book launch)
Kate Moss's body is a work or art. Literally.
Kate Moss has a revealed that a tattoo at the bottom of her back is an original design by the late painter Lucian Freud and could be worth millions.
The model became friendly with Freud in 2002 when she posed nude for him while pregnant with her daughter Lila Grace.
La Moss said that he told her a story about how he used to do tattoos for sailors while he was in the Navy and offered to design one for Kate.
'He told me about when he was in the Navy, when he was 19 or something, and he used to do all of the tattoos for the sailors. And I said, "Oh my God, that's amazing." And he went, "I can do you one. What would you like? Would you like creatures of the animal kingdom?" I said I liked birds and he replied, "I've done birds. I've got it in my book." And he pointed down at a painting of a chicken upside down in a bucket. And I said, "No, I'm not having that." And then he said, "Maybe I should just do you." And I thought, I'm not going to have a girl on my a**e. So we decided to do a flock of birds.'
Moss went on to say that the artwork must be worth millions, telling Vanity Fair: 'I mean, it's an original Freud. I wonder how much a collector would pay for that? A few million? If it all goes horribly wrong I could get a skin graft and sell it. It's probably the only one on skin that's still around, because when he was in the Navy he was about 19. Can you imagine?'
Has Kate Moss just gotten cooler in your books? Let us know what you think about her Lucian Freud inking in the comment box below.
KATE MOSS SHIMMERS IN GOLDEN GOWN AT BOOK LAUNCH PARTY
KATE MOSS OPENS UP ON NERVOUS BREAKDOWN AT 17
IN PICTURES: CELEBRITY TATTOOS
Celebrity news, beauty, fashion advice, and fascinating features, delivered straight to your inbox!