Karl Lagerfeld Backtracks Over Adele 'Fat' Comments
Eponymous designer Karl Lagerfeld says Adele was 'roundish,' but that his comments helped her lose weight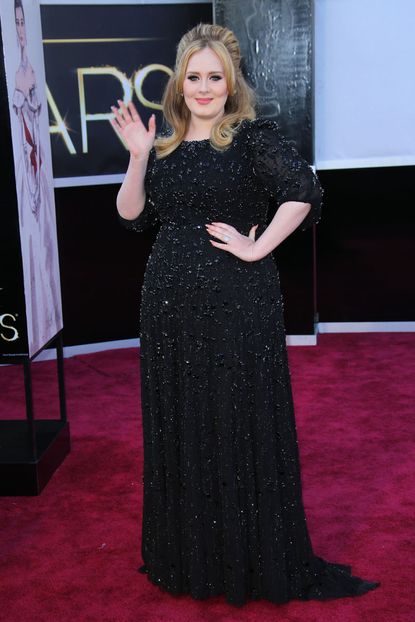 (Image credit: REX)
Eponymous designer Karl Lagerfeld says Adele was 'roundish,' but that his comments helped her lose weight
Karl Lagerfeld caused much controversy last year when he called British songstress Adele 'fat'. Now the eponymous designer has backtracked over his comments, telling reporters he merely said she was 'roundish'.
And not just that. Lagerfeld also claims that his comments helped the Oscar-winning singer lose 17lbs in weight.
ADELE RESPONDS TO KARL LAGERFELD FAT COMMENTS
When asked by CNN's 'Backstage Pass' about the controversial quotes, Lagerfeld reponded: 'I never said that she was fat, I said that she was a little roundish; a little roundish is not fat.
'After that she lost eight kilo (17lbs), so I think the message was not that bad.'
Wow.
Karl first waxed lyrical on the subject of Adele in 2012 saying: 'The thing at the moment is Adele. She is a little too fat.'
After public outcry, the designer later issued an apology, and reportedly sent Adele a selection of Chanel handbags to hammer home the point.
'I'd like to say to Adele that I am your biggest admirer. Sometimes when you take a sentence out of the article it changes the meaning of the thought,' he said. 'Adele is my favourite singer and I am a great admirer of her.'
At the time, Adele told People magazine: 'I've never wanted to look like models on the cover of magazines. I represent the majority of women and I'm very proud of that.'
'I'd lose weight if I was an actress and had to play a role where you're supposed to be 40 pounds lighter, but weight has nothing to do with my career.
'Even when I was signing (a contract), most of the industry knew if anyone ever dared say (lose weight) to me, they wouldn't be working with me.'
Go Adele!
VIDEO: Adele interview…
What do you think of Karl Lagerfeld's latest comments? Let us know in the box below…
ADELE RESPONDS TO KARL LAGERFELD FAT COMMENTS
Celebrity news, beauty, fashion advice, and fascinating features, delivered straight to your inbox!