Adele hits back at Karl Lagerfeld's 'too fat' insult
Singer says she is 'very proud' of her image and weight has nothing to do with her career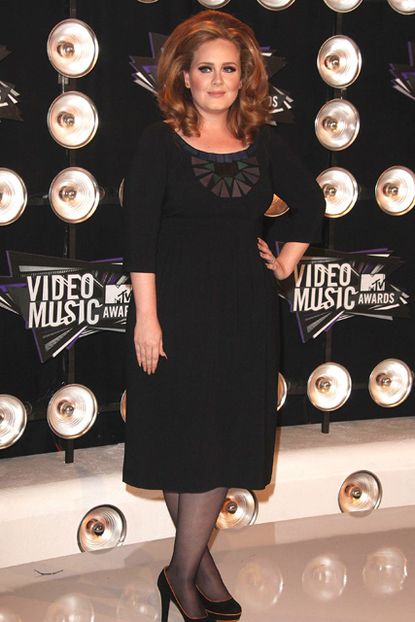 (Image credit: REX)
Singer says she is 'very proud' of her image and weight has nothing to do with her career
A day after Karl Lagerfeld's stinging comments about her weight, Adele has hit back declaring that she is 'very proud' of her image.
The Turning Tables singer says she represents real women, and has never aspired to be the type of woman that Lagerfeld sends down his runways.
In an interview with People magazine, the 23-year-old says: 'I've never wanted to look like models on the cover of magazines. I represent the majority of women and I'm very proud of that.'
'I'd lose weight if I was an actress and had to play a role where you're supposed to be 40 pounds lighter, but weight has nothing to do with my career. Even when I was signing (a contract), most of the industry knew if anyone ever dared say (lose weight) to me, they wouldn't be working with me.'
Her interview comes a day after Chanel's creative director Karl told the Paris Metro newspaper that she was a 'little too fat.'
Asked for his views on women pop stars the fashion guru, 78, appeared to have been attempting to compliment Adele: 'The thing at the moment is Adele. She is a little too fat, but she has a beautiful face and a divine voice,' he said.
Lagerfeld added that the Royal Family were 'totally unnecessary, but pleasant' and he also called Russian men 'ugly' and said Greeks and Italians have 'disgusting habits.'
He has since apologised and claims his remark was taken out of context.
Singing sensatation Adele is set to return to the stage at Sunday night's Grammy Awards, where she has received nods in six categories, for the first time since undergoing throat surgery.
ADELE TO MAKE COMEBACK AT GRAMMY AWARDS
What do you make of Karl Lagerfeld's comments? Tell us in the box below...
Celebrity news, beauty, fashion advice, and fascinating features, delivered straight to your inbox!