Jennifer Lopez and Marc Anthony split
The couple announced the end of their six-year relationship over the weekend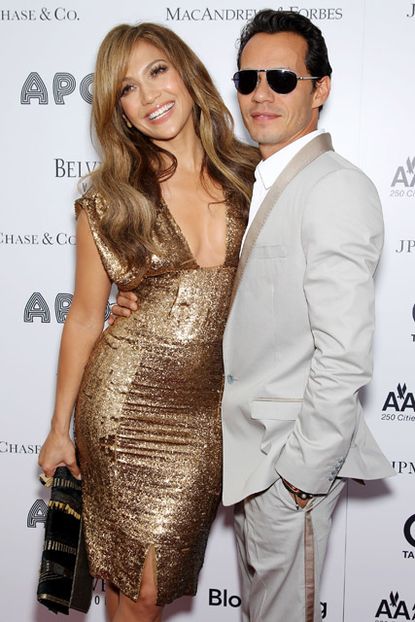 (Image credit: Rex Features)
The couple announced the end of their six-year relationship over the weekend
They were one of Hollywood's hottest couples, but after a six-year union, it's been confirmed Jennifer Lopez and and Marc Anthony are to end their marriage.
The couple announced their break-up in a joint statement on Friday, revealing they had 'come to an amicable conclusion on all matters.'
But already the split rumours have begun to circle, with some suggesting all had not been well behind the scenes for some time.
JENNIFER LOPEZ & MARC ANTHONY: RELATIONSHIP IN PICS
Confirming the split in a short message on their website, the pair wrote: 'We have decided to end our marriage. This was a very difficult decision.
'We have come to an amicable conclusion on all matters. It is a painful time for all involved and we appreciate the respect of our privacy at this time.'
Despite the seemingly friendly end, insiders suggest the break-up is anything but amicable, with the pair barely on speaking terms.
'This is not a surprise,' Jennifer's stylist Phillip Bloch revealed to the Mail on Sunday in an interview.
'Marc is very controlling. In the beginning she liked that because he stood up to her, and in the early days he was very much in love with her and she was with him.'
Although the reason for the split has yet to be confirmed, it's thought the couple could have been at war for months, over everything from unpaid taxes to where they should live.
'They clashed when she learned he owed millions in unpaid taxes on the Long Island estate,' one insider revealed.
'The other problem was that they couldn't agree where to live. J-Lo's career is in Hollywood and she wanted to live in their Malibu mansion and Marc loved New York. She was going to move to New York in a last-ditch effort to save the marriage. But last Monday I heard it was all over.'
Yesterday Marc made a cryptic comment about the split during a concert in Colombia, proclaiming to the audience: 'They say I am a single man'. ButJennifer has yet to comment further on the split.
J-Lo and Marc married in a small ceremony in 2004, renewing their vows in 2008, and again in 2010. They have two children, twins Max and Emme.
What are your thoughts on the latest celebrity split? Did you see it coming? Let us know your thoughts in the comments box below.
Celebrity news, beauty, fashion advice, and fascinating features, delivered straight to your inbox!