Jennifer Aniston Talks Upcoming Wedding And Kate Middleton's Hair
Jennifer Aniston reveals to Marie Claire how she plans to style her famous locks when she marries fiancé Justin Theroux later this year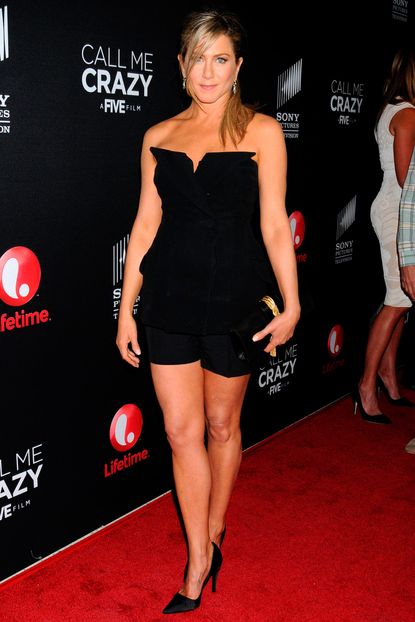 (Image credit: Rex Features)
Jennifer Aniston reveals to Marie Claire how she plans to style her famous locks when she marries fiancé Justin Theroux later this year
Jennifer Aniston's hair was the envy of millions in the 1990's with that iconic Rachel cut, but the actress has admitted it's Kate Middleton's locks she really envies.
In an interview with Marie Claire US, Jennifer talks about the Duchess of Cambridge's glossy hair, saying: 'She's got a hard job, being scrutinized like that. When I have a bad hair day, my hair just goes in a clip.'
JENNIFER ANISTON POSTPONES WEDDING TO JUSTIN THEROUX
Jen also spilled to MC how she plans to have her hair when she marries fiance Justin Theroux, revealing: 'For my wedding, I wouldn't do an updo, but I think a veil is always pretty. I like loose and natural hair because it goes against the formality of the dress. Loose, like 'I just got out of bed, maybe had a romp' hair. '
Her longtime stylist and Living Proof partner Chris McMillian quipped, 'I plan to do her hair three hours early, and hopefully she'll have a romp in bed before the ceremony.'
During the Q&A Jennifer also revealed she sometimes wears extensions, saying: 'Yes (I have). There's only so much hair can take. Mine was really brittle, dry, and dull, but the Living Proof Restore Mask Treatment brought it back to life.'
Aniston also admitted that the 'Rachel' was kind of an accident. 'My manager at the time said, 'You have to do something with your hair – it's horrible!' she told the magazine. 'I walked into the salon and Chris just lopped it off. I mean, at that point it was pretty much The Rachel.'
But the iconic look took quite a lot of work to maintain, she said. 'The Rachel was high maintenance. I'd curse Chris every time I had to blow dry. It took three brushes – it was like doing surgery!'
In the interesting interview the 44-year-old also spoke about her lifelong obsession with hair, explaining: 'In elementary school, I would use a curling iron and end up burning my forehead. I was a closeted hairdresser. I did my mom's highlights with one of those caps with the holes – I even gave her a perm! I may have had another career if the acting thing hadn't worked out.'
Adding that she's just like us mere mortals when it comes to daily struggles with her hair, 'I have naturally wavy, frizzy Greek hair, and over the years it's taken a beating from blow-dryers, flatirons, curlers, and extensions, which I think are the most damaging,' she says.
'I couldn't get it to grow because it just kept breaking. Even when it was longer, it didn't look long because the ends were so thin. I ended up using clip-in pieces just to fill it out.'
Got a tablet? You can now download Marie Claire magazine straight to your iPad, Kindle (just search the store for 'Marie Claire magazine'), Nook or Google Nexus.
Celebrity news, beauty, fashion advice, and fascinating features, delivered straight to your inbox!