J.K. Rowling confirms no more Harry Potter books
After unveiling online site Pottermore, the author confirmed there would be no new novels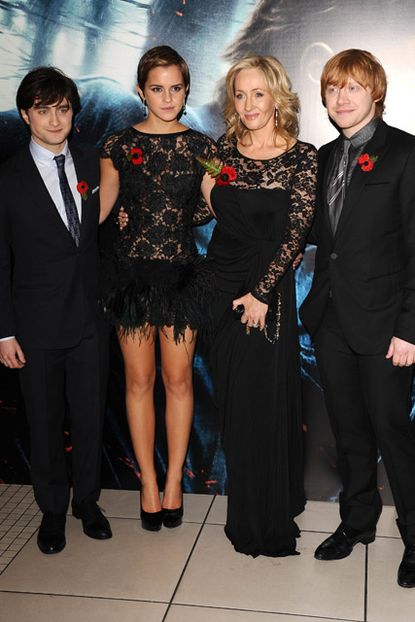 (Image credit: Rex Features)
After unveiling online site Pottermore, the author confirmed there would be no new novels
J.K Rowling caused a stir among fans around the world last week when she revealed an exciting announcement was on the way. Was it an eighth Harry Potter novel, many wondered?
But after unveiling brad new online site Pottermore yesterday, the star author confirmed she would definitely not be writing any new wizarding books.
DEATHLY HALLOWS 2: ALL THE LATEST PICS!
'I have no plans to write another novel,' she revealed at the Pottermore press conference. 'I'm pretty sure I'm done on the novel front. But it was fun while it lasted.'
Instead, Rowling said she would include 'additional information I've been hoarding for years about the world of Harry Potter.'
'I had more than half of the new material already written or in note form. I literally dug some out of boxes,' she revealed.
'I generated more material than ever appeared in the books. I thought, "Who would ever want to know the significance of all the difference wand woods?". Now you can go and see. It's such a rich experience to do it this way.'
The author also spoke of releasing digital editions of the Harry Potter books, revealing she took a very hands on approach to the task.
'If it was going to be done, we wanted it to be more than that. I wanted to pull it back to reading, to the literary experience, the story experience, and this is what emerged. I've had a lot to do with virtually every aspect of it,' she said.
'Ebooks are here and here to stay. Later than a lot of people, I for the first time downloaded ebooks and it's miraculous for travel and for children in particular. I feel great about taking Harry into this new medium.'
Are you planning to become a member of the Pottermore site? Will you be downloading digital editions of the Harry Potter series? Let us know in the comments box below.
DEATHLY HALLOWS 2: ALL THE LATEST PICS!
Celebrity news, beauty, fashion advice, and fascinating features, delivered straight to your inbox!