J.K. Rowling promises 'an online reading experience unlike any other' at Pottermore
The Harry Potter site will also include new information about the famous franchise that the star author has 'been hoarding for years'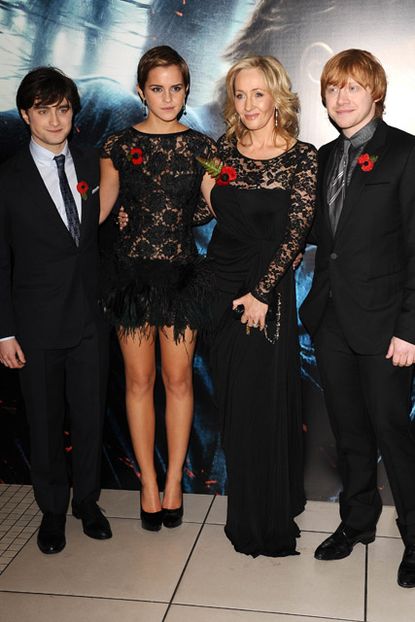 (Image credit: Rex Features)
The Harry Potter site will also include new information about the famous franchise that the star author has 'been hoarding for years'
J.K. Rowling sparked a fan frenzy last week, when she launched a mysterious new Harry Potter site online. What she was planning we just didn't know, with some guessing an eighth book, others an interactive website or international fan forum.
Now, Pottermore's purpose has finally been revealed, after an official announcement by the star author herself.
J.K promises 'an online reading experience unlike any other,' for fans who visit the brand new site, which will hold additional information I've been hoarding for years about the world of Harry Potter.'
SEE ALL THE LATEST DEATHLY HALLOWS PICS HERE!
'Thirteen years after the first Harry Potter book was published, I'm still astonished and delighted by the response the stories have met,' Rowling said during the announcement.
'Even though the seventh book and eighth book have already been completed, I'm still receiving hundreds of letters every week, and Harry's fans remain as enthusiastic and inventive as ever.
'So I'd like to take this opportunity to say thank you, because no author could have asked for a more diverse and loyal readership. And I'm thrilled to say I'm in the position to give you something unique.
'An online reading experience unlike any other. It's called Pottermore,' the author continues. 'It's the same story with a few crucial additions – the most important one is you.
'Just as the experience of reading requires that the imaginations of the reader and author work together to create the story, so Pottermore will be built in part by you, the reader.
'The digital generation will be able to enjoy a safe unique online reading experience built around the Harry Potter books. Pottermore will be the place where fans of any age can share, participate in and rediscover the stories. It will also be the exclusive place to purchase digital audio books, and, for the first time, e-books.
'I'll be joining in too, because I'll be sharing additional information I've been hoarding for years about the world of Harry Potter. Pottermore is open to everyone from October, but a lucky few can enter early and help shape the experience. Simple follow the owl… good luck.'
Are you looking forward to visiting the Pottermore website? Will you be one of the fans to join? Let us know in the comments box below.
HARRY POTTER STARS: THEN AND NOW
Celebrity news, beauty, fashion advice, and fascinating features, delivered straight to your inbox!