Todd Phillips hints at Hangover 3 movie
The director has revealed a THIRD hit could be on the way, as a 'finale and an ending' to the famous cult films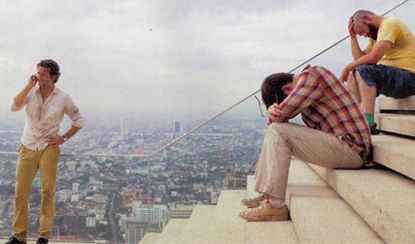 The director has revealed a THIRD hit could be on the way, as a 'finale and an ending' to the famous cult films
The second hilarious looking Hangover film is yet to hit screens (it arrives on May 27th, not that we're counting!) but already there have been whispers bosses are in talks over a THIRD movie.
Rumour has it director Todd Phillips is in support of a sequel, and would love to gather together the all-star original cast – of Bradley Cooper, Zach Galifianakis, Justin Bartha and Ed Helms – for one final, disasterous movie.
Talking at a press conference, Phillips told delighted journalists he'd love to make a 'finale' to the side-spitting cult movies, which would 'cap' the three-part series.
But he said if made, the third movie would be quite different from his first two comedy efforts.
'The third would very much be a finale and an ending,' the director revealed at the promotional event.
Joking about choosing locations for the final film, he said: 'As far as where it takes place, I'm very open like the Olympic committee to being pitched and presented cities, flown around with wine and women and bribed and then I will make my decision'.
Later this month, the troublesome foursome will take to Thailand for the Hangover 2 movie, where they're set to celebrate Stu's wedding.
But as usual, nothing goes to plan…
WATCH the Hangover 2 trailer here…
Would you like to see a THIRD Hangover movie? Let us know your thoughts in the comments box below.
Celebrity news, beauty, fashion advice, and fascinating features, delivered straight to your inbox!