Gamu Nhengu opens up on dramatic X Factor exit
The rejected X Factor contestant has finally opened up on her plight, revealing she plans to fight deportation and wishes she had never entered the X Factor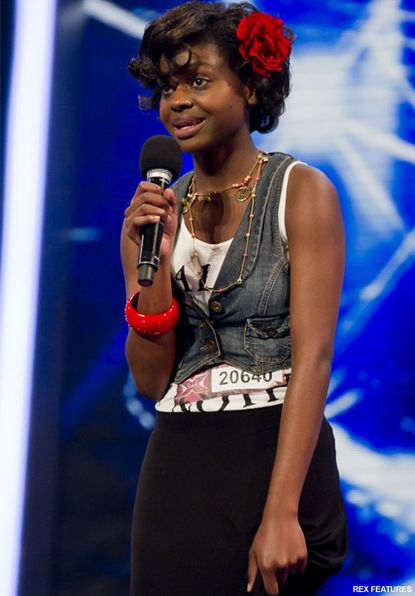 (Image credit: Rex Features)
The rejected X Factor contestant has finally opened up on her plight, revealing she plans to fight deportation and wishes she had never entered the X Factor
Rejected X Factor contestant Gamu Nhengu has finally opened up on her plight, revealing she plans to fight deportation, and fears reprisals from Robert Mugabe's regime if her family are sent back to Zimbabwe.
SEE ALL THE LATEST X FACTOR PICS HERE!
Just weeks ago, the sorry singer made a shock exit from the talent competition, after judge Cheryl Cole failed to take her through to the show's live stages.
And things went from bad to worse for the 18-year-old, when immigration officials revealed Gamu had been ordered to leave Britain after her visa application was denied.
Now the singer has spoken out on her plans to fight deportation, revealing she fears for her life if she is sent back to poverty-stricken Zimbabwe in Africa.
'They will punish us if we go back,' she told the Daily Mirror of the country's strict government. 'Our lives are in danger.'
The singer also talked of how herX Factor hopes were smashed, and how she wishes she had never entered the famous competition.
'I wish I'd never entered the X Factor because if I hadn't been on it my family would be safe, and because of me, now they aren't,' she said.
'There was a point when I thought I could have been the wild card. Then I saw the news this week and knew my chances were up.'
But Gamu maintains she won't let rejection beat her, and will continue trying to make it as a singer.
'I still want to be someone, to do something, to be talked about,' she said.
'I want people to say they did this to her, and she still came back. Hopefully, it will be an inspiration to other people.'
Do you think Gamu should be allowed to stay in the UK? Would you like to see her make it in the music industry? Let us know in the comments box below.
SEE ALL THE LATEST X FACTOR PICS HERE!
Celebrity news, beauty, fashion advice, and fascinating features, delivered straight to your inbox!