'Don't be afraid to fail': Michelle Obama's inspiring career advice to schoolchildren
The First Lady shared her tips on growing up with a group of London girls yesterday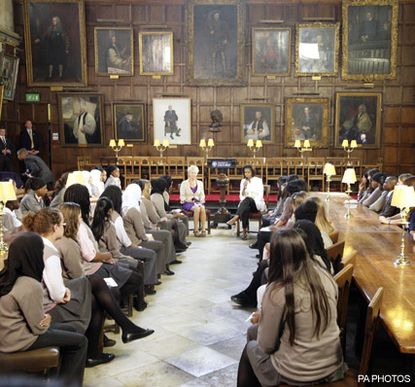 (Image credit: PA Photos)
The First Lady shared her tips on growing up with a group of London girls yesterday
She's been a sparkling success during the Presidential tour of Europe, attended dinner with the Queen, an audience with Prince William and Kate Middleton, and manned the salad bowl during a Downing Street barbeque.
But yesterday First Lady Michelle Obama still found time to give an inspiring career talk to a group of girls from an inner-city London school.
SEE THE OBAMAS' VISIT IN PICTURES!
Mrs Obama shared pearls of wisdom on growing up with pupils from Elizabeth Garrett Anderson girls' school in North London, during a visit to Oxford University.
The trip, organised at the First Lady's suggestion, was designed to teach the pupils about University, and encourage them to go on into higher education.
The president's wife first met children at the school two years ago during an official trip to Britain and has stayed in touch with the girls, writing letters and encouraging them in their studies.
And yesterday, Mrs Obama gave a touching speech to the girls - to the backdrop of the college's grand dining room - encouraging them not to be afraid to fulfil their true potential.
'In your stories I saw so much of my own story so I knew that the next time I came to the United Kingdom I wanted to visit with all of the students again,' she told the them.
'The things I tell my girls are the same things I tell you. Don't be afraid to fail. Don't be afraid to take risks. Learn to use your voice now.
'Ask questions. Ask stupid questions. Don't be afraid to trip, fall and don't be afraid to get back up.'
Speaking of her own entry into the prestigious Harvard Law, Mrs Obama said: I remember back when I was your age, trying to decide which schools that I would apply to.
'And I remember how well-meaning, but misguided, people sometimes questioned whether someone with my background could succeed at an elite university.
'But after a few months I realised that I was just as capable. I realised that success is not about the background you are from, it is about the confidence that you have and the effort you are willing to invest.'
'We passionately believe that you have the talent within you, you have the drive, the experience to succeed at Oxford and universities just like it across the country and the world.'
During a question and answer session, Michelle also talked about meeting her husband, and how she 'always knew' the President was special.
'Honestly, when I met him I knew he was special. I knew he was a special person and it had nothing to do with his education, nothing to do with his potential, she said.
Throwing in a little dating advice, she added: 'Reach for partners that make you better. Do not bring people in your life who weigh you down.'
SEE THE OBAMAS' VISIT IN PICTURES!
Celebrity news, beauty, fashion advice, and fascinating features, delivered straight to your inbox!