Did Christina Aguilera split with hubby over lesbian affair?
After her shock split with Jordan Bratman, the rumours are already doing the rounds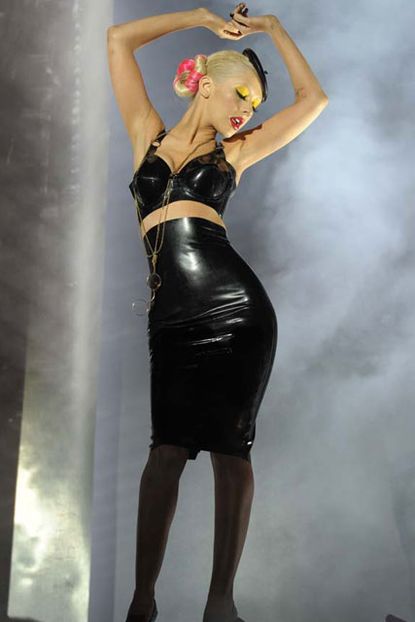 After her shock split with Jordan Bratman, the rumours are already doing the rounds
So far, 2010 hasn't been a great year for celebrity couples, and it seems it's about to get a lot worse. After Christina Aguilera's 'amicable' split with hubby Jordan Bratman last week, things seem set to turn ugly, with rumours on everything from Christina's lesbian romps to Jordan's controlling behaviour doing the rounds as the reason.
SEE CHRISTINA AND JORDAN'S RELATIONSHIP IN PICS HERE!
Christina announced their separation to shocked fans last Wednesday, in an official statement, which read: 'Although Jordan and I are separated, our commitment to our son Max remains as strong as ever.'
With no reason given for the split, rumours started to fly, and speculation grew that Christina had initiated the break-up.
The singer reportedly told pals she was 'upset' and 'frustrated' her career comback had fallen flat, and blamed her hubby for 'holding her back.'
But today, fresh claims have surfaced, suggesting it was actually Jordan who broke the marriage off, after becoming tired of Christina bringing women home for 'lesbian romps'.
Speculation first arose last week, when a woman came forward, alleging Christina's bodyguard had been sent to proposition her.
'The bodyguard told me it was an understanding within their marriage and that she brings girls home and Jordan's okay with it,' she told a US website.
'I ended up not pursuing anything with it because the situation just seemed so weird to me, but Christina was definitely looking to hook up. It's funny because I had a couple girlfriends tell me that they were approached by Christina too.
'My understanding was that Jordan wasn't involved when she brought girls home, so maybe the divorce is because Jordan's jealousy got the best of him.'
After turning to pal Sam Ronson following the rumours started to circle that Christina could be romantically involved with Li-Lo's famous ex, although the claims have since been blasted by the star's spokesman.
Christina has made no secret of her love of women, as has spoke openly about it in the past.
'I like to talk about the fact that sometimes I am attracted to women. I appreciate their femininity and beauty,' she revealed earlier this year. 'My husband knows that I get into girls. I think it's fun to be open and play.
'My husband and I check in with each other but I definitely love women. I think they're more attractive to the naked eye.'
Do you think there is any truth to the latest split rumours? Let us know your thoughts in the comments box below.
Celebrity news, beauty, fashion advice, and fascinating features, delivered straight to your inbox!