Demi Moore worried she's 'not worthy of being loved'
The newly single actress has opened up about her biggest fears in an intimate interview with friend Amanda de Cadenet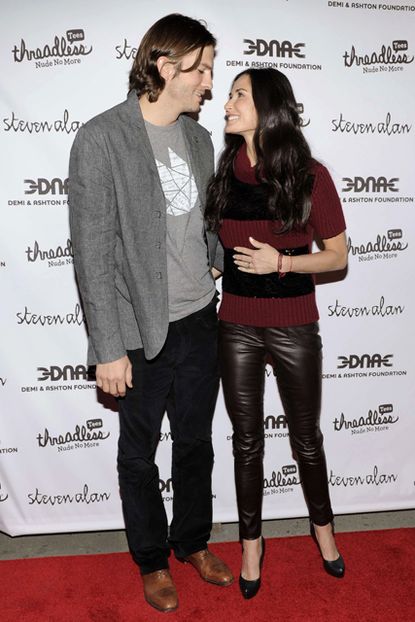 (Image credit: REX)
The newly single actress has opened up about her biggest fears in an intimate interview with friend Amanda de Cadenet
Speaking not long after filing for divorce from Ashton Kutcher, Demi Moore has revealed she's scared she's not worthy of being loved.
The 49-year-old actress made the admission to friend and British photographer Amanda de Cadenet during an interview for US Harper's Bazaar.
She said: 'There is no way to reach your fullest potential if you don't really find the love of yourself.
'What scares me is that I'm going to ultimately find out at the end of my life that I'm really not lovable, that I'm not worthy of being loved. That there's something fundamentally wrong with me.'
While she didn't directly talk about her split with the Two And A Half Men star, she did hint that she's coming to terms with the end of their marriage.
She said: 'Somebody wrote something to me that said, "Don't let your wounds make you become someone you're not." That's really powerful. And not taking life too seriously.'
Demi also went on to talk about the 'love-hate relationship' she has with her body, which has often been criticised for being too thin, especially in the wake of her split with Kutcher.
SEE DEMI MOORE'S STUNNING BIKINI BODY
She said: 'When I'm at the greatest odds with my body, it's usually because I feel my body's betraying me, whether that's been in the past, struggling with my weight... or that I couldn't get my body to do what I wanted it to do.
'I think I sit today in a place of greater acceptance of my body, and that includes not just my weight but all of the things that come with your changing body as you age to now experiencing my body as extremely thin - thin in a way that I never imagined somebody would be saying to me, 'You're too thin, and you don't look good.
'I find peace when I don't see my body as my enemy.'
DEMI AND ASHTON'S RELATIONSHIP IN PICTURES
Celebrity news, beauty, fashion advice, and fascinating features, delivered straight to your inbox!