Demi Moore to support Susan Boyle at Britain's Got Talent final?
Will the A-list actress jet in to watch Susan Boyle perform on Saturday?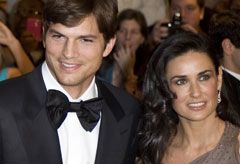 (Image credit: Rex Features)
Will the A-list actress jet in to watch Susan Boyle perform on Saturday?
Demi Moore may jet in to London this Saturday to support singing sensation Susan Boyle in the Britain's Got Talent final.
The A-lister was moved to tears when she first heard the Scottish singer perform on the TV show and her Twitterings about Susan's powerful delivery gained the up-and-coming singer global attention with appearances on Oprah and Larry King.
Now, the micro-blogging site has come into its own again as one of the talent show judges, Amanda Holden, has extended an invitation to Demi using Twitter to watch the show live, offering first class tickets to London and a room at London's swanky hotel The Dorcester.
In a bid to garner more publicity for the show, Holden Twittered: 'B.G.T final is on the 30th, I'll speak to Simon – am sure he will let you borrow his plane.x.'
Her follow-up message read: 'Message for Demi! Please someone get this to her as I am still rubbish at twittering Simon says yes! But to first class tickets!'
And proving her A-list status doesn't interfere with a down-to-earth personality, Demi replied to the plea, writing: 'What no private plane? Generous offer! Thank you! And thank Simon! When are the finals?'
With promises of a five-star hotel and a red carpet reception, it remains to be seen whether the 46-year-old actress will take up the invitation. Watch this space…
FOR MORE CELEB NEWS CLICK HERE
ARE YOU A TWITTERER? FOLLOW US HERE!
BECOME A MARIE CLAIRE FACEBOOK FAN HERE
Celebrity news, beauty, fashion advice, and fascinating features, delivered straight to your inbox!