David Arquette: 'I thought Courteney was having an affair'
The sorry Scream star has given his first post-rehab interview, in a bid to explain his erratic behaviour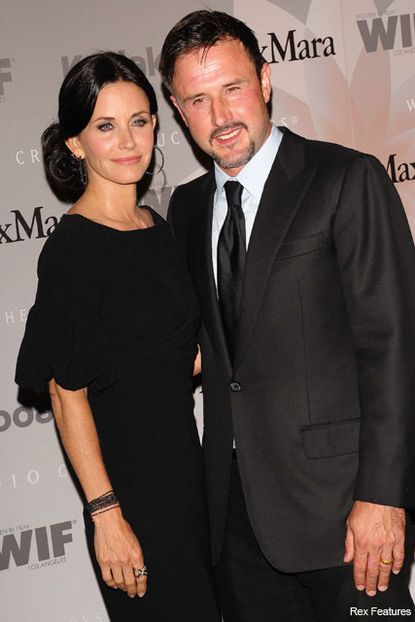 (Image credit: Rex Features)
The sorry Scream star has given his first post-rehab interview, in a bid to explain his erratic behaviour
In his first interview since leaving a rehab clinic in LA, sorry Scream star David Arquette has opened up on the erratic behaviour that followed his split with Courteney Cox, admitting much of was sparked by the belief his wife was having an affair.
SEE COURTENEY AND DAVID IN HAPPIER TIMES HERE!
David and Courteney split in October last year, and in the months following the separation, David shocked fans by seeming to admit an affair in a bizarre drunken rant on Howard Stern's US radio show, before revealing he was close to a nervous breakdown, and had hit the bottle since the split.
It's thought friends and family of the star have became increasingly concerned about his heavy drinking, and staged an intervention to get him into rehab.
Now David has spoken out about the troubling time in an interview with Oprah, revealing his recent behaviour was sparked by the end of his marriage, and belief his wife was having an affair.
'She came down really depressed one day, and was like "I'm really just not happy,"' he said of the moment Courteney initiated the split. 'I felt really sort of abandoned at that point.
'There were tabloid stories coming out about her and someone on her show having, you know, an affair,' he added.'I thought she was having an affair with someone. Nobody would've said something like that if she weren't.'
Revealing Courteney was the one to stage an intervention when his hard partying ways became out of control, he said: 'I came back from Miami and I had taken a nap and I woke up and Patricia and Courteney were at my bed.
'I was like, "What are you two doing here together?" 'Courteney's like, "Do you mind coming out to the living room for a minute?" I said, "Sure, let me get dressed." I put on this white outfit and came out,' he continues.
'My best friend was there, my business partner and some guy I don't know, and I go, "What up, turkeys? I guess this is my intervention."'
Now David is determined to get on with his life, and has admitted a reconciliation with his estranged wife could still be on the cards.
I'd love for it to work out,' he said. 'We truly love each other with all our hearts. Whether it's as friends or as husband and wife, "I know that I'll be with her my whole life.'
But it seems the decision will be up to Courteney. 'I want her to be happy,' he added. 'If me being the best person I can be doesn't make her happy in a partner, in who she needs, whatever she's looking for, that's still to be answered.'
'She's my best friend, and I love her with all my heart,'
Would you like to see David and Courteney reunite? Let us know in the comments box below.
SEE COURTENEY AND DAVID IN HAPPIER TIMES HERE!
Celebrity news, beauty, fashion advice, and fascinating features, delivered straight to your inbox!