David Arquette apologises for outburst on US radio show
The sheepish star has said sorry for discussing the end of his marriage and sex life live on air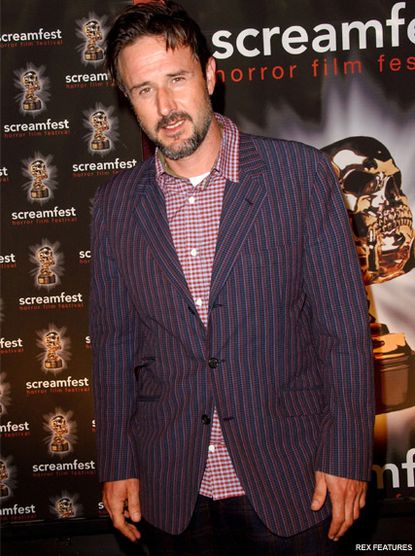 The sheepish star has said sorry for discussing the end of his marriage and sex life live on air
Sheepish star David Arquette has apologised for his shocking outburst on US radio yesterday, in which he revealed the reasons behind the breakdown of his marriage to Courteney Cox, and also spoke about their sex life.
SEE COURTENEY AND DAVID'S RELATIONSHIP IN PICS HERE!
The Scream actor shocked listeners by phoning in to the Howard Stern radio show to discuss the split live on air, admitting a fling with 'that girl in the papers', and telling how Courteney ended their marriage.
David also discussed details of their sex live, adding that they hadn't shared a bed in 'four months', and appearing to say his wife gave him permission to sleep with someone else.
'She knows she's not f***ing me, and she's like, "Listen, I want you to be able to do whatever you have to do,"' he said.
But now the star has apologised for his undignified outburst.
Following a media storm after the phone-in, David posted a series of Tweets on his Twitter page, addressing the earlier incident.
'Thank you all for your Love and support at this time,' he wrote. 'I'm trying figuring out how to be the best person I can be but it's been a process of trial and error.
'I went on Howard Stern yesterday to provide clarity and honesty about what I'm experiencing but while doing that I shared too much...it's alright for me to be honest about my own feelings but in retrospect some of the information I provided involved others and for that I am sorry and humbled.
'Life is a process of spiritual evolution. I'm sure Courteney and myself will emerge from this painful time better people for what we've learned.'
Meanwhile, Courteney – who has so far maintained a determined silence on the split – was spotted in LA with friends, without her wedding ring.
What are YOUR thoughts on David's behaviour since the split? Let us know in the comments box below.
COURTENEY AND DAVID'S BEST MOMENTS
Celebrity news, beauty, fashion advice, and fascinating features, delivered straight to your inbox!