Dannii Minogue: I'm the X Factor Punchbag
The Aussie songstress has spoken out about the bickering on set, and how she knows she'll win this year's show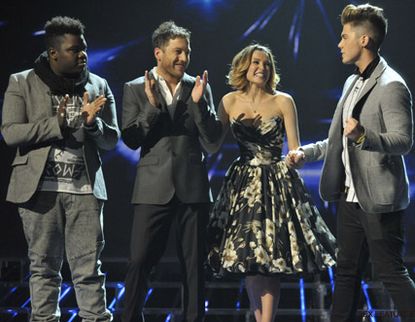 (Image credit: Rex Features)
The Aussie songstress has spoken out about the bickering on set, and how she knows she'll win this year's show
Judge Dannii Minogue has spoken out for the first time about the bickering on the X Factor set, but had revealed it doesn't bother her because she's 'definitely' going to win the show.
SEE ALL THE LATEST X FACTOR PICTURES HERE!
The new mum – who's been juggling motherhood with her X Factor role – has revealed she's the 'punchbag' of the series, but jokingly added the others only disagree 'because they know I'm right'.
'I know I'm the punchbag on the show,' she told the Sun. 'The others disagree with everything I say, but only because they know I'm right.'
But she reveals their comments don't bother her, as she's certain she'll win the show this year. 'I'm fine about the competition between the judges,' she said. 'It's not a problem because I'm definitely going to win.'
Speaking out on the much-reported bickering behind the scenes, she added this year's show is the most 'intense' ever.'
'This series is the most intense thing I have ever done,' she said. 'There's a lot of bickering behind the scenes.'
It's been an action-packed week for the star, who stepped out to rehersals yesterday, make-up free and looking better than ever.
Earlier this week she launched her first Project D fragrance with her design partner Tabitha Webb, with a glittering tea party and Harvey Nichols.
Who are your X Factor favorites? Will one of Dannii's acts win this year's show? Let us know your thoughts in the comments box below.
SEE ALL THE LATEST X FACTOR PICTURES HERE!
PICS! DANNII'S GLITTERING PROJECT D FRAGRANCE LAUNCH
Celebrity news, beauty, fashion advice, and fascinating features, delivered straight to your inbox!