Christina Aguilera takes a tumble during Grammys performance
Oh Xtina. Just one week after fluffing her lines during a high profile Super Bowl performance, the songstress tripped on stage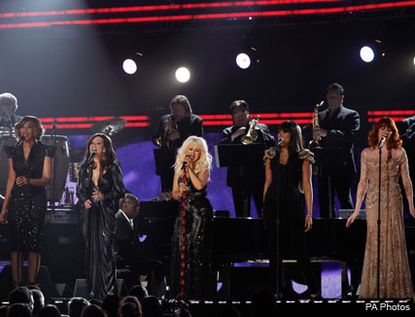 (Image credit: PA Photos)
Oh Xtina. Just one week after fluffing her lines during a high profile Super Bowl performance, the songstress tripped on stage
We can't help feeling just a tiny bit sorry for Christina Aguilera this morning. Just one week after fluffing her lines during an appearance at the famous American Super Bowl concert, the songstress took a tumble on stage, while performing at the Grammy Awards.
SEE ALL THE GORGEOUS GRAMMYS PICS HERE!
Christina was appearing with Jennifer Hudson, Martina McBride, Florence Welchand gospel singer Yolanda Adams, in a tribute to songstress Aretha Franklin, when the unfortunate incident occurred.
Continuing her run of bad luck, the starlet lost her footing and slipped towards the end of the song – an otherwise glittering rendition of Sisters Are Doin' it for Themselves.
Luckily, Brit starlet Florence Welch was on hand, and quickly helped flustered Miss Aguilera to her feet, as the girls were given a standing ovation for their performance at the prestigious awards.
WATCH Christina slip on stage here…
Last week the embarrassed starlet was forced to apologise to fans, after getting the words to the National Anthem wrong, during a performance at the Super Bowl.
As 100 million viewers watched on, the 30-year-old superstar sang the incorrect lyrics: 'Whose broad stripes and bright stars through the perilous fight, What so proudly we watched at the twilight's last gleaming.'
What she should have sang was: 'Whose broad stripes and bright stars, through the perilous fight, O'er the ramparts we watched, were so gallantly streaming.' Oops.
What are your thoughts on Christina's Grammy performance? Let us know in the comments box below.
SEE ALL THE GLITTERING GRAMMYS PICS HERE!
Celebrity news, beauty, fashion advice, and fascinating features, delivered straight to your inbox!