Cannes 2014: 9 Brilliant Things To Look Out For
Today, 200,000 actors, directors and movie fans will arrive in France for the 67th Cannes Film Festival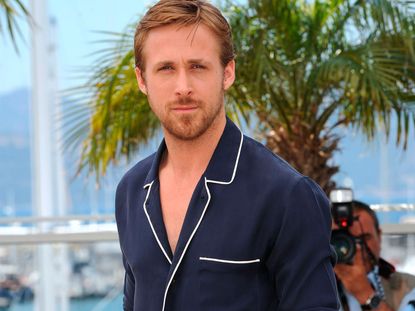 (Image credit: Rex)
Today, 200,000 actors, directors and movie fans will arrive in France for the 67th Cannes Film Festival
Today, over 200,000 people will descend on La Croisette for the Cannes Film Festival 2014. But what can we expect? Well, we'll tell you...
1. Ryan Gosling
Yep, that's right. The hottest movie man of them all will be appearing at Cannes 2014 for the premiere of his directorial debut, Lost River (the keener Gosling fans among you may recall it was originally supposed to be called How to Catch a Monster). It's billed as a dark fantasy drama and starring Matt Smith, Saoirse Ronan, Christina Hendricks and is-she-his-girlfriend-or-isn't-she Eva Mendes (prepare for some awks red carpet moments, people). Last year, Gosling's film Only God Forgives was booed and jeered by critics, so we expect he'll be a wee bit nervous. We can help you with that, Gozzie...
2. More Blake Lively? Go on then...
She killed it in Gucci at the Met Ball 2014 and so we were stupidly excited to see Mrs Ryan Reynolds jet into Cannes this morning. She's appearing at the uber-glam French Riviera event as part of her role as a L'Oréal Paris ambassador and we're hoping she'll also join husband Reynolds on the red carpet for the premiere of his movie The Captive becausewe cannot get enough of these type of photos...
3. Cheryl Cole in Cannes is always good
Also scheduled to walk the red carpet in Cannes is our very own Cheryl Cole. She'll be joining Blake Lively (and Zoe Saldana, Julianne Moore and Lara Stone) for L'Oreal Paris. We cannot wait to see what she decides to wear for this most glamorous of events. All eyes will be on you, Chezza. No pressure.
4. Grace of Monaco controversy
Grace of Monaco, starring Nicole Kidman (she's already been photographed wearing Alexander McQueen, so expect some killer red carpet looks from her), will open Cannes. We are more than a little bit interested to see what the critics make of this biopic, considering Prince Albert and his sisters, Caroline and Stéphanie, have already accused the film of being innacurate and producer Harvey Weinstein has openly criticised director Olivier Dahan's handling of the material, causing the Weinstein Company temporarily removed the film from its schedule in January. Drama on La Croisette, indeed.
5. Jane Campion is running the show
Director Jane Campion is president of the Cannes film festival jury and is only the 10th woman to be given the prestigious role in the history of the event. She's also the only female winner of the festival's top prize, the Palme d'Or, which she received for The Piano in 1993. Incredible.
6. So much Sofia Coppola
Jane Campion is joined by Sofia Coppola on the jury. A red carpet veteran and always chic, we're really looking forward to a plethora of drool-worthy and suitably elegant looks from Ms Coppola. Expect lashings of Louis Vuitton. We're also hoping she might let slip some details about her upcoming Little Mermaid adaptation.
7. Robert Pattinson (twice) AND Kristen Stewart
R-Patz will come out of hiding to promote not one, but two new films - Map To The Stars and The Rover. We expect him Dior-clad and dashing. In related news, his ex, Kristen Stewart, will also be there (are they on speaking terms? Will they hang out? Will we see them together? Will they rekindle their love? Too many questions) to walk the red carpet for her turn in Clouds of Sils Maria which also stars Juliette Binoche and Chloe Grace Moretz.
8. Brits doing us proud
Mike Leigh's drama Mr Turner and Ken Loach's Jimmy's Hall are both up for the Palme d'Or. Having both won the top prize before (Loach for The Wind that Shakes the Barley in 2006 and Leigh for Secrets & Lies in 1996), those in the know seem to think this could be the year for the Brits.
9. Fashion WILL have a moment
Marion Cotillard, Eva Mendes, Kristen Stewart, Chloe Grace Moretz, Sienna Miller, Hailee Steinfeld, Eva Mendes, Lea Seydoux, Hilary Swank, Christina Hendricks and Saoirse Ronan will all walk the red carpet, which means only one thing: there will be so much Couture we won't know where to look. Remind yourself why Cannes is the most fashionable red carpet in the world.
Now feast your eyes over the best Cannes Film Festival dresses of all time.
Celebrity news, beauty, fashion advice, and fascinating features, delivered straight to your inbox!