Brad Pitt sizzles at Killing Them Softly screening after donating £700 to Southampton Hospital
Brad Pitt looked hot at the event after it emerged he'd given the sum to the hospital's neonatal unit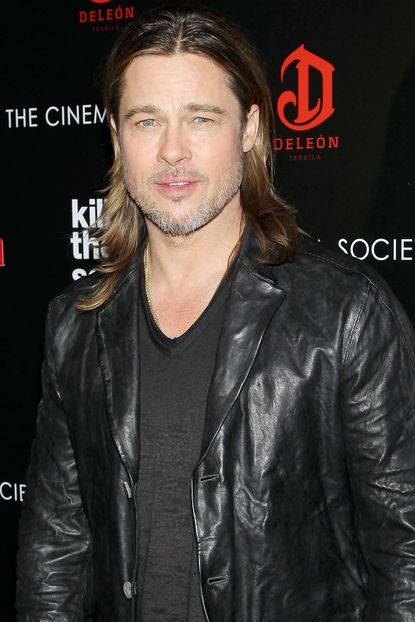 (Image credit: Rex)
Brad Pitt looked hot at the event after it emerged he'd given the sum to the hospital's neonatal unit
Brad Pitt was back to his beautiful best last night as he attended a screening of his latest film, Killing Them Softly, in New York.
Clad all in black with his long hair tucked behind his ears and beard neatly tamed, Brad painted a very nice picture.
And he of course isn't just a pretty face or a talented actor, he's also a generous guy; last week while the A-lister was on UK shores filming World War Z in London he came across a fundraising initiative for Southampton General Hospital's neonatal unit set up by his friend's wife Karley Gallagher. Without a second thought Brad emptied the entire contents of his wallet and handed it over to the fund – giving them $1,100 (£686).
Karley's son, Zachary Gallagher, spent nine weeks in intensive care at the hospital and wanted to give something back as a way of thanking them. Fortunately she has celebrtity connections and Brad was able to help out.
JENNIFER ANISTON INVITES BRAD PITT'S MUM TO HER WEDDING
Talking to People magazine, Karley said: 'He [Brad] said that he had seen the fundraiser mentioned in the local papers and seen my fliers and thought it was a really great cause and was just sorry he couldn't have been there.
'The silver lining is that Zachary is home and alive. To have Brad assist us is more than we could ever have wished for.'
Brad Pitt really is the perfect guy.
What do you think of Brad Pitt's gift to the hospital? Should all celebrities do more for charity? Let us know below.
Watch our Brad Pitt interview at the Killing Them Softly screening in London:
BRAD PITT AND ANGELINA JOLIE BEST MOMENTS
Celebrity news, beauty, fashion advice, and fascinating features, delivered straight to your inbox!