Brad Pitt and Angelina Jolie: The way they were
From Mr & Mrs Smith to today's six-child clan, look back at the very best Brad Pitt and Angelina Jolie moments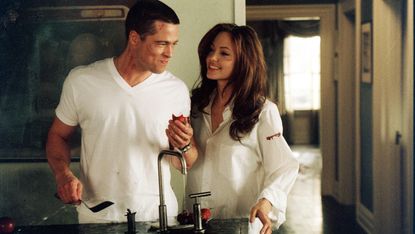 (Image credit: REX/Shutterstock)
Angelina Jolie and Brad Pitt have broken up after 11 years together. Here are some of their most memorable moments as a couple.
Angelina Jolie has filed for divorce from Brad Pitt, according to a report published on TMZ.com. Jolie and Pitt have been together for 11 years and married in 2014.
The pair famously met in 2005 on the set of Mr and Mrs Smith, when Pitt was still married to Jennifer Aniston. Though the emergence of their relationship was contentious at the time, the pair weathered the storm of press attention and settled down together. Jolie, who had previously been married to actors Jonny Lee Miller (1996) and Billy Bob Thornton (2000), also had an adopted child called Maddox.
Brad and Angelina's relationship became strongly centred around their self-titled 'rainbow family', which they grew over the following decade with Pax (12), Zahara (11) Shiloh (10) and twins Knox and Vivienne (8); when the pair finally married in 2014 at a private wedding ceremony in their French Chateau Miraval, Jolie wore a veil embroidered with colourful drawings by her six children.
Jolie and Pitt had seemed to be one of Hollywood's strongest couples and frequently spoke in admiration about each other. When Jolie underwent a double mastectomy in 2013, Pitt released a statement praising her bravery: 'Having witnessed this decision first hand, I find Angie's choice, as well as many others like her, absolutely heroic' he wrote, 'All I want is for her to have a long and healthy life, with myself and our children. This is a happy day for our family.'
Though the couple's large family and their frenetic schedules - including Jolie's extensive humanitarian commitments - have always kept them particularly busy, they have told reporters in the past that they were able to remain hands-on in their parenting by taking it in turns with film or other work projects. Presumably they will now be looking to maintain this stability while living apart.
From their 2005 meeting to their 2016 separation, we look back at 11 years of Jolie-Pitt moments.
Angelina Jolie & Brad Pitt: 2015
2015
Brad on Angelina's wild side: 'She's still a bad girl, delightfully so, it's not for public consumption'
2014
Angelina on her kids wanting her to get married: 'The kids asked me the other day and I asked them if it was just because they wanted to have a big cake. They see movies that have the people getting married, you know, the happily ever after. Shrek and Fiona are married. We've explained to them that our commitment when we decided to start a family was the greatest commitment you could possibly have. Once you have six children, you're committed.'
2014
Brad on the importance of Brangelina time: 'There are no secrets at our house. We tell the kids, "Mom and Dad are going off to kiss." They go, "Eww, gross!" But we demand it.'
2014
Brad on why they wanted to get married: 'We'd actually like to, and it seems to mean more and more to our kids. We made this declaration some time ago that we weren't going to do it till everyone can. But I don't think we'll be able to hold out.'
2014
Angelina on how Brad changed her life: 'He has expanded my life in ways I never imagined. We built a family. He is not just the love my life, he is my family. I hold that very dear. I suppose what I've learned from Brad is to be able to have the kind of family whose happiness and well-being comes before your own. I'm very very grateful to have such a loving family, and I wouldn't have that without him.'
2013
Angelina on Mr & Mrs Smith: 'Not a lot of people get to see a movie where their parents fell in love. What's going to be funny is when they think Mom and Dad are a little bit cool. Because right now, we're not cool Mom and Dad.'
2012
Brad on Angelina as a mum: 'I'm satisfied with making true choices and finding the woman I love, Angie, and building a family that I love so much. A family is a risky venture, because the greater the love, the greater the loss. That's the trade-off. But I'll take it all . . . One of the greatest, smartest things I ever did was give my kids Angie as their mom. She is such a great mom. Oh, man, I'm so happy to have her.'
2011
Brad on his kids: 'Everyone talks about the joy of having kids, blah, blah, blah. But I never knew how much I could love something until I looked in the faces of my children.'
2011
Angelina on her kids: 'They're my favourite friends! They've become my best friends. We love sitting up and talking about life.'
2010
Angelina on how they fell in love: 'We spent a lot of time contemplating and thinking and talking about what we both wanted in life and realized that we wanted very, very similar things. And then we just continued to take time. We remained very, very good friends with this realization for a long time. And then life developed in a way where we could be together, where it felt like something we would do, we should do.'
2010
Brad on Angelina's beauty: 'I get up some mornings and gasp.'
2010
Angelina on Brad being her best friend: 'I don't have a lot of friends I talk to. He is really the only person I talk to.'
2009
Brad on how much he loves Angelina: 'Man, I resent people telling others how to live! It drives me mental! Just the other night, I heard this TV reverend say that Angie and I were setting a bad example because we were living out of wedlock, and people should not be duped by us! It made me laugh. What damn right does anyone have to tell someone else how to live if they're not hurting anyone? How many times do you think real love comes to someone in a lifetime? If you're lucky, maybe two or three.'
2009
Angelina on Brad's masculinity: 'I am very lucky with Brad. He is a real gentleman, but he is also a real man's man. He's got the wonderful balance of being an extraordinary, great, loving father, a very, very intelligent man and physically he's a real man in all things that it means.'
2009
Brad on growing old with Ange: 'I'm surprised how much our history - Angie's and mine - means to me. That we have this story together. That we know each other. That we watch each other getting older, through amazing moments, joys, pains. I don't know. I'm just surprised, because you hear people talking about the old ball and chain, and people trying to recapture youth, as if that's the impulse, but it's not the impulse, it's not the impulse at all.'
2009
2009
Brad on his close-knit family: 'I have very few friends. I have a handful of close friends and I have my family and I haven't known life to be any happier. I'm making things. I just haven't known life to be any happier.'
2009
Angelina on Brad's attractiveness as a father: 'It's such a beautiful and sexy quality in a man when he takes his responsibilities as a father very seriously. I still get very emotional when I watch Brad play with the children, he is so naturally devoted and joyful around them.'
2008
Angelina on growing old with Brad: 'We've been through so much. We've gotten a lot closer, which I think naturally happens with raising a family together. You have history. You have so many memories. All your memories are based on time together, so you don't have separate experiences. You have this person you live with who really knows you, and you know them so well. You're not lovers or boyfriend and girlfriend as much as you are a family.'
2008
Angelina on her closeness with Brad: 'You get together and you're two individuals and you feel inspired by each other, you challenge each other, you complement each other, drive each other beautifully crazy. After all these years, we have history and when you have history with somebody, you're friends in such a very real, deep way that there's such a comfort, and an ease, and a deep love that comes from having been through quite a lot together.'
2008
Angelina on when Maddox accepted Brad: 'We left a lot of it up to Mad, and he took his time and then made the decision. One day Maddox just out of the blue called him Dad. It was amazing. We were playing with cars on the floor of a hotel room, and we both heard it and didn't say anything and just looked at each other. So that was probably the most defining moment, when he decided that we would all be a family.'
2007
Angelina on when they decided to adopt Zahara together: 'We both saw her picture in a file on the same day, and we both went to Ethiopia to see her, and we both had the same fear because she was sick at the time, and we both made the decision that no matter what, we were going to look after her.'
2007
Angelina on having their first child together: 'The day Shiloh came home... we looked around at three sleeping children and each other and thought "My God! Here we are! This is amazing!" But...wow. We can't even figure out how to get them all in the car!'
2006
The Jolie-Pitts remained relatively low-key during the start of their relationship, and though they were first spotted together in April 2005, they didn't confirm their relationship until January 2006, when Jolie announced she was pregnant with their first biological child. It took almost another whole year for the couple to make their first red carpet appearance, at the premiere of The Good Shepherd premiere in December 2006, seven months after the birth of daughter Shiloh.
2005
Celebrity news, beauty, fashion advice, and fascinating features, delivered straight to your inbox!
The leading destination for fashion, beauty, shopping and finger-on-the-pulse views on the latest issues. Marie Claire's travel content helps you delight in discovering new destinations around the globe, offering a unique – and sometimes unchartered – travel experience. From new hotel openings to the destinations tipped to take over our travel calendars, this iconic name has it covered.