Coldplay collaboration rejected by Beyoncé
Coldplay frontman Chris Martin reveals he wrote a song for Beyoncé but had it rejected by the star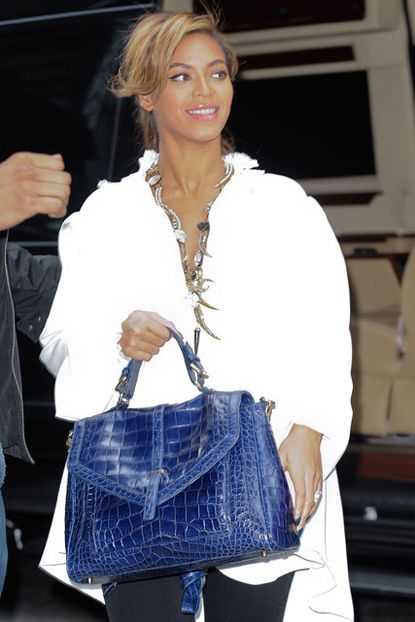 (Image credit: Rex)
Coldplay frontman Chris Martin reveals he wrote a song for Beyoncé but had it rejected by the star
Coldplay frontman, Chris Martin, has revealed he wrote a song for Beyoncé, but had it rejected by the star.
SEE BEYONCE'S PREGNANCY STYLE PARADE Despite being best friends with Chris Martin and his wife Gwyneth Paltrow, it seems Beyoncé did not want to mix business with pleasure and turned down Coldplay's offer of featuring on their latest album Mylo Xyloto.
'Well, I did write a song for Beyonce, but it got rejected by her A&R people,' Chris revealed to Maxim magazine.
Despite being one of the world's most successful songwriters Chris Martin admitted that bridging the gap between rock and hip-hop has been a challenge.
'There's still this tribalism in music where we're rock and you're pop and you're hip-hop, and it sometimes takes a while to get across those barriers,' Martin said.
He admitted he wished Beyoncé had given the song a chance, saying, 'Who cares if we used to be shelved in different places in Tower Records?'
Chris was quick to get over his disappointment though and moved on to the next available songstress, Rihanna.
RiRi agreed to lend her vocals to record the song Princess of China with the band.
After recording the track, Chris was full of love for the flame-haired star, saying Rihanna is the 'greatest singer in the world.'
Chris couldn't stop gushing about the pop princess, and said her part on the album was his favourite vocal, 'She's f**king rad, and I love listening to her. It's my favourite real singing on the album.'
Would you have liked to see Bey work with Coldplay? Tell us what you think in the comments box below...
SEE BEYONCE'S PREGNANCY STYLE PARADE
Celebrity news, beauty, fashion advice, and fascinating features, delivered straight to your inbox!