Barack Obama's handover letter to President Donald Trump is a lesson in class
'We are just temporary occupants of this office.'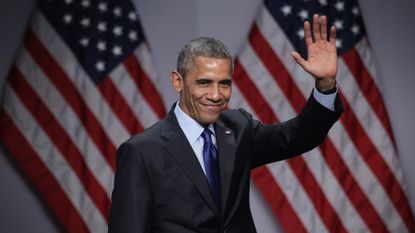 (Image credit: Getty Images)
'We are just temporary occupants of this office.'
It's a long-standing American tradition that on inauguration day, the former president leaves a handwritten note for his replacement. There aren't many people who truly understand what it's like occupying the highest office in the world and for the first time, Barack Obama's letter to President Donald Trump has been revealed and it's full of meaningful advice.
Obama's letter was markedly longer than his predecessors George W. Bush and Bill Clinton, however he touched on similar themes: mentioning how humbling it was to serve the American people, the importance of family and the incredible weight of the decisions that a president must make in office. CNN received a full copy of the letter written on White House stationery, which has been reprinted below:
Barack Obama strongly endorsed Hillary Clinton for the presidency back in 2016, saying at the Democratic National Convention, 'No matter how much people try to knock [Hillary Clinton] down, she never, ever quits. That is the Hillary I know.'
However, it wasn't meant to be as we all now know. While Hillary may have won the popular vote, Donald Trump won the electoral college which secured his role as the 45th President of the United States. However, Obama (as ever) was a class act and his beautiful letter is hopeful yet incredibly firm in making Trump understand the significance of his actions to come.
George W. Bush's 2009 letter to Obama in contrast was much shorter, signed off with the initials GW. He wrote to a much younger Obama, 'Very few have had the honour of knowing the responsibility you now feel. Very few know the excitement of the moment and the challenges you will face. There will be trying moments. The critics will rage. Your 'friends' will disappoint you. But you will have an Almighty God to comfort you, a family who loves you, and a country that is pulling for you, including me.'
While you could arguably question whether Trump has actually followed Obama's advice to 'sustain the international order' or 'leave [the] instruments of our democracy at least as strong as we found them', according to CNN Trump is incredibly proud of the letter. He has reportedly shown visitors Obama's farewell letter and even reached out to Obama to personally thank him for it.
'It was long. It was complex. It was thoughtful. And it took time to do it, and I appreciated it,' Trump told ABC News.
Even though only a handful of people ever get to be president, Obama's reminders to work towards public good, treasure your loved ones and to leave the world better than you found it resonate deeply. BO, please be our life coach.
Celebrity news, beauty, fashion advice, and fascinating features, delivered straight to your inbox!
Megan is a freelance journalist who covers entertainment and all things lifestyle, with a particular passion for fashion, beauty, travel and Keanu Reeves stories. She has previously worked on staff for titles including Marie Claire UK, CNN Style and The Evening Standard and has written for titles such as Bustle UK, Wallpaper*, Forbes and Hong Kong Tatler. She splits her time between London and her hometown Hong Kong, where she currently lives with the love of her life - an elderly dog named Poppy - and her husband.