Angelina Jolie's leg is the laughing stock of the Oscars
The star's pin has even had a Twitter account set up in its honour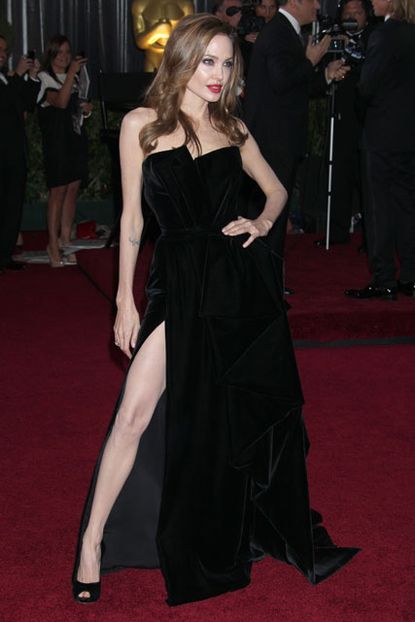 (Image credit: PA)
The star's pin has even had a Twitter account set up in its honour
Angelina Jolie's unusual and very revealing pose at the Oscars has caused quite a stir, and not necessarily in a good way.
The In the Land of Blood and Honey director has become the butt of many, many jokes after she took to the red carpet at this year's Oscars and proceeded to strike a now-famous limelight-grabbing stance.
OSCARS 2012: RED CARPET PICS
There's no denying that Angelina Jolie, 36, looked gorgeous in her Atelier Versace gown but the way she continuously stuck her right leg out between the thigh-high split has probably caused quite the opposite effect she was hoping for.
Even her fellow Academy Award attendees had a dig at her pose, with writer Jim Rash even mocking her on-stage, in front of the entire star-studded audience, after she had presented him with an award for Best Adapted Screenplay.
OSCARS 2012: THE SHOW
Joking backstage, The Descendants writer said: 'I had just seen her pose and thought it was bold and fun. And you know what? We have exactly the same legs! Really, it was a loving tribute and nothing but.'
The star's right leg has even had a Twitter account set up in its honour. It's called @AngiesRightLeg and already has 26,000 followers and counting.
Her father, Jon Voight, appeared on Daybreak yesterday and defended her odd Oscar antics. He said: 'She comes out and does this pose and waits until people get it, it was so great. The audience responded so wonderfully too, with whistles and everything.
'And then she laughed and took it in and went on with her speech. So who knows? You can never tell about these moments that pop up out of a show like this.'
There's no doubt that Angelina was determined to get her leg on show and, if we had a leg like that, we probably would too!
What do you think of Angelina Jolie's red carpet pose? Ridiculous or just a lot of fuss about nothing? Let us know in the comment box below...
OSCARS 2012: AFTER-PARTIES
Celebrity news, beauty, fashion advice, and fascinating features, delivered straight to your inbox!