Brits say sorry eight times a day
If you find yourself in the habit of saying sorry, you're not the only one as research reveals that Brits say sorry 2,920 times a year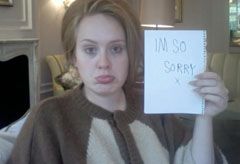 (Image credit: Adele)
If you find yourself in the habit of saying sorry, you're not the only one as research reveals that Brits say sorry 2,920 times a year
Sorry seems to roll of the tongue in Britain, with new research claiming the average person apologises around 233,600 times in a lifetime. One in eight admit to saying sorry more than 20 times a day.
What's more, we even have a habit of apologising for other people's mistakes - such as if someone bumps into you, treads on your toes or pushes in front of you in a queue.
Victoria Willis, head of marketing at the New York Bakery Co says: 'We suspected that Brits were over-apologetic, but our results prove this is the case, with the average person using 'sorry' almost 3,000 times a year.'
The research also revealed that 30 per cent of people use the term sorry as a substitute for 'excuse me', while 67 per cent use the apologetic term as an introduction to interrrupt someone else's conversation.
And it seems we need to become more straight-talking in the workplace too, with 37 per cent of Brits admitting to tiptoeing around colleagues or an issue in fear of offending someone.
The New York Bakery Co say the sorry saga needs to be dealt with and plans to help over-apologetic Brits with free 'Brashness Classes' to help us become more self-sufficiant both in and out of the workplace.
Celebrity news, beauty, fashion advice, and fascinating features, delivered straight to your inbox!