Briton murdered and wife kidnapped in exclusive Kenyan holiday resort
Briton David Tebbutt was murdered and wife Judith kidnapped after armed men stormed the luxury beach resort they were staying in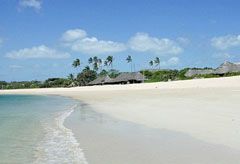 Briton David Tebbutt was murdered and wife Judith kidnapped after armed men stormed the luxury beach resort they were staying in
A British tourist has been shot dead in Kenya, while his wife still remains missing after being kidnapped.
David Tebbutt, 58, was staying in an exclusive resort on the Kenyan coast with his wife Judith, 57, when armed intruders invaded the beach resort on Saturday night.
The gunmen, who demanded money, are believed to have shot Tebbutt, finance director at Faber & Faber, when he resisted kidnap. His wife was then taken hostage and forced on to a speedboat. Her whereabouts are still unknown.
The couple, who were due to return from their fortnight holiday in East Africa next week, had enjoyed the first leg of their trip on safari in the Masai Mara game reserve. They then arrived at the luxury Kiwayu Safari Village at 4pm on Saturday afternoon and were the only guests there that night.
The exclusive retreat, which is managed by British-Kenyan George Moorhead, boasts 18 beautiful thatched cottages dotted around a mile of sheltered beach and is a favourite with Mick Jagger, Tracey Emin and actress Imelda Staunton.
However, the private resort is located less than 30 miles from the border between Kenya and troubled Somalia. It has been suggested that the raiders may have been Somali and possibly pirates. There has even been talk about the attack being carried out by the Islamist terrorist group, Harakat al-Shabab al Mujahideen, an extremist Somali group.
Previous warnings had been released on the Foreign Office travel advice site about travel within the 30-kilometre radius of the Kenyan/Somali border.
Despite the supposed round-the-clock guard patrol in the area, Kenyan police commissioner, Mathew Iteere, also condemned the lack of security at the couple's seaside bungalow.
'They gained entry very easily because only a piece of cloth was used in the place of the door,' he told the media.
Since the attack, helicopters, speedboats and a spotter plane have been sent out in search of Judith Tebbutt, but so far no sightings have been reported.
Celebrity news, beauty, fashion advice, and fascinating features, delivered straight to your inbox!
Natalia is a health journalist with 14 years experience in the publishing industry. She has worked for a number of well known magazines and websites including Marie Claire, Woman&Home, Top Sante, Boots and The Telegraph. She likes to think she practices what she preaches when it comes to health and fitness. Her athletic prowess began early. A keen fencer for 13 years, she wielded an epée for Olympic Team GB during her teenage years. She likes to think she made sword-fighting cool before Game of Thrones came along! While working on her sporting performance with the team, she also participated in a lot of nutrition and psychology training, When it comes to time off, you'll most likely find her up a mountain somewhere. It seems holidays have become a time for climbing several thousand feet, rather than chilling out. She's now hiked eight of the major mountain ranges across four continents – including the Appalachians, the Smokies, the Sierra Nevadas (she spent her honeymoon hiking to the top of Half Dome), as well as hitting the summits of Snowdon, Pen-Y-Fan (Brecon Beacons), Table Mountain in South Africa, the Blue Mountains in Australia and the Atlas Mountains in Morocco. She's also passionate about all things health, particularly vaccinations, and will happily jump on her soap box at any given opportunity to talk about their benefits to anyone who will listen!