Berlusconi could be on trial next week
Requests for immediate indictment are put through by principal prosecutor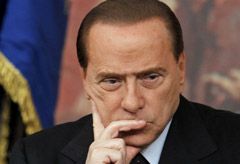 (Image credit: Rex Features)
Requests for immediate indictment are put through by principal prosecutor
Italian prime minister Silvio Berlusconi could stand trial for illegal sex charges as early as next week after Milan's chief prosecutor, Edmondo Bruti Liberati, suggested a request be put forward for an immediate formal charge.
A judge will decide in the next couple of weeks whether to accept the request and bring the premier to trial.
Despite supposed overwhelming evidence, Mr Berlusconi, 74, is continuously rebuffing claims that he paid a 17-year-old prostitute for sex.
Although he is used to accusations against his business dealings, this is the first time that his private life has been targeted.
He believes the 'disgusting' accusations are simply an attempt to unseat his government. The accusations have 'offended the dignity of the country,' he added.
The prime minister is suspected of having sex with the underage Moroccan nightclub dancer, nicknamed Ruby, and then abusing his power and influence to cover it up.
Fearing his relationship would be exposed, he is then alleged to have used his position to release the Moroccan runaway, real name Karima el-Mahroug, after she was arrested for supposedly stealing £2,550.
Berlusconi and el-Mahroug, who is now reportedly engaged and two months pregnant, still deny any sexual relationship. If found guilty under Italian law, he could face a minimum of 15 years behind bars.
Celebrity news, beauty, fashion advice, and fascinating features, delivered straight to your inbox!
Natalia is a health journalist with 14 years experience in the publishing industry. She has worked for a number of well known magazines and websites including Marie Claire, Woman&Home, Top Sante, Boots and The Telegraph. She likes to think she practices what she preaches when it comes to health and fitness. Her athletic prowess began early. A keen fencer for 13 years, she wielded an epée for Olympic Team GB during her teenage years. She likes to think she made sword-fighting cool before Game of Thrones came along! While working on her sporting performance with the team, she also participated in a lot of nutrition and psychology training, When it comes to time off, you'll most likely find her up a mountain somewhere. It seems holidays have become a time for climbing several thousand feet, rather than chilling out. She's now hiked eight of the major mountain ranges across four continents – including the Appalachians, the Smokies, the Sierra Nevadas (she spent her honeymoon hiking to the top of Half Dome), as well as hitting the summits of Snowdon, Pen-Y-Fan (Brecon Beacons), Table Mountain in South Africa, the Blue Mountains in Australia and the Atlas Mountains in Morocco. She's also passionate about all things health, particularly vaccinations, and will happily jump on her soap box at any given opportunity to talk about their benefits to anyone who will listen!