Are neck creams worth it? Not according to these two skin experts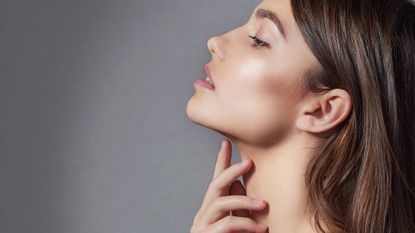 (Image credit: Getty Images)
Just when you thought you had nailed your skincare routine, suddenly there's an additional cream meant for a specific part of your body. We present to you: neck creams. In the past, we thought using our normal serum, day cream and SPF on our necks would be fine. But now there's a whole subcategory of products aimed solely at the neck. Cult Beauty has even seen a whopping 57% rise on searches related to neck creams.
With this in mind, we sat down with two of London's go-to skin experts, Kate Kerr - Clinical Facialist - and Dr Maryam Zamani - Aesthetic Doctor - to ask them whether neck creams are worth investing in or whether it's something that you can firmly leave off your list.
Let's chat about the skin on our neck...
First of all, we wanted to know how the skin on your neck differs from the skin on the rest of your face. 'The skin on your neck is thinner and has fewer sebaceous glands,' explains Kate Kerr. 'It's often a neglected area, which is prone to more sun damage.' Both Kerr and Dr Zamani highlighted the newest issue facing women, which is 'tech-neck'. 'Recently, there has been an increase in the number of younger patients complaining of premature ageing of the neck,' Dr Zamani says. 'This is perhaps because of the tendency to tilt the head downward, looking down at gadgets. The skin on the neck is more extensible and elastic, so is significantly influenced by constant movement, weight and sun exposure.' She goes on to say that as the skin on the neck is also much thinner than that on the rest of the face, that it is much more likely to get wrinkly.
How do you take care of the skin on your neck?
So what does this mean for maintenance? How should we be caring for our necks? Dr Zamani says a combination of 'SPF, retinol creams and serums to improve tone and increase collagen production, hyaluronic acid to hydrate, ceramides and peptides to lock in moisture and vitamin c' is ideal, which Kerr agrees with: 'growth factors and peptides that will stimulate collagen, vitamin c to help with pigmentation, strengthen the capillaries and then an SPF50 sunscreen.'
Can't we just use our normal skincare?
So are our face creams ok to use on our necks? Or can we use our run-of-mill body moisturiser? Dr Zamani says no to the body cream, 'but I always recommend using all face skincare on the neck and décolletage.' Kate Kerr agrees, 'Continue your face skincare routine down your neck and along your décolletage. Those two areas get a lot of sun and they're also on show and if you're using a lot of active ingredients on your face but neglecting your neck and décolletage then you can get a bit of disparity between the two, and the neck and décolletage can look older or in less good condition.'
Neck creams - are they worth it?
So if this is the case, why are there neck creams? As Kerr puts it: 'I don't think there's a lot of difference to be honest, it's purely marketing and making money for the cosmetic market. Skin is skin and as an anti-ageing product it's going to have the same ingredients as your face cream. It might be slightly more rich, because the neck has fewer sebaceous glands, so it might be slightly dryer. but they really are unnecessary.' You basically want to hydrate, protect, stimulate collagen and elastin production, which you can do with your skincare regimen.
So what have we learnt? The skin on your neck is slightly different from the rest of your face, but as long as your are using products that stimulate the collagen, contain antioxidants to protect against environmental aggressors and are using a high SPF, then you're sorted.
Keep the money you were going to spend on the neck cream and save it for one of these designer handbags worth the investment.
You are most welcome. Spend your money elsewhere.
Celebrity news, beauty, fashion advice, and fascinating features, delivered straight to your inbox!
Katie Thomas is the Senior Beauty Editor at Marie Claire UK. With over 10 years of experience on women's luxury lifestyle titles, she covers everything from the best beauty looks from the red carpet and stand out trends from the catwalk, to colonic irrigation and to the best mascaras on the market. She started her career on fashion desks across the industry - from The Telegraph to Brides - but found her calling in the Tatler beauty department. From there she moved to Instyle, before joining the Marie Claire digital team in 2018. She's made it her own personal mission to find the best concealer in the world to cover her tenacious dark circles. She's obsessed with skincare that makes her skin bouncy and glowy, low-maintenance hair that doesn't require brushing and a cracking good manicure. Oh and she wears more jewellery than the Queen.