First Person: the ugly truth about Instagram beauty...
Could those innocent selfies could be ruining our self esteem? Anita Bhagwandas investigates with a week of intensive Insta-ready prep….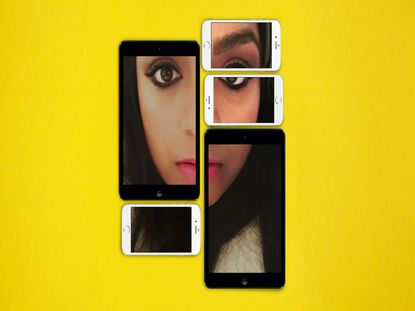 Could those innocent selfies could be ruining our self esteem? Anita Bhagwandas investigates with a week of intensive Insta-ready prep….
At Download festival last year I decided it would be mega lols to take two Cadbury Fingers - and stick them under my top lip. Hil-arious, I thought - I look like a walrus!Everyone guffawed so evidently my buffoonery must have paid off. The less funny part was being tagged on Instagram in a photo capturing that moment. Firstly, because it was shot from below, so I had about 56 double chins (that's 112 actual chins) and secondly, because I literally saw the real me captured in one single moment. Basically, a massive goon. See…..
I can't quite believe I've put this up online. Photo credit my BFF Marie. Thanks babes. ;)
It was sort of seminal for me. Because that was the first time I noticed the severe disconnection between who I am in private (geek, child, deeply uncool) and who I purport to be through social media (glossy beauty editor, Céline-lover, artsy twat). They're not entirely different people – they're both sides of me – but the latter is definitely, more, well, carefully constructed for my Instagram and Snapchat accounts.
Social media started out with good intentions – to connect us and share our experiences. But if you type #beauty or #selfie into any platform, what you'll see isn't a gallery of smiling, individual faces as you would expect and should see; instead, there are plumped-up pouts, perfectly drawn-on brows and mannequin-esque faces, which have been altered to erase every hint of humanity. Unless you cast a skeptical eye over everything you see on social media it has the potential to really affect your sense of perception.
Perhaps our definition of 'normal' is what's actually changing, though. Research from Dove's 2014 Real Beauty Sketches campaign found that 82 per cent of women feel the beauty standards set by social media are unrealistic. Likewise, studies from the University of Buffalo in New York discovered that women who base their self-worth on their appearance are likely to post more pictures of themselves, seeking validation. That all makes sense to me, and what I see on my own Instagram feed. But what I want to know is how quickly this netherworld of poor self-esteem facilitated by online platforms can cleverly lure you into its treacherous web.
The Experiment Begins…
Morning selfies – whose bright idea was that? (BEYONCE!) When I wake up, my hair forms several dreadlocks during the course of the night, and I'm so dehydrated and waxy-looking that I'm a dead (lol) ringer for a corpse in an open casket.
Sadly, I did wake up like this.
Despite my reluctance, after about 20 minutes of viewing other people's morning selfies, I started to feel like I genuinely wanted to be hotter first thing in the morning and thatI didn't measure up. That self doubt taken hold seriously quickly. Terrifyingly so in fact. So, I do what I know works miracles, get individual eyelash extensions from Lash Perfect and wake up all kitteny-looking. I might have been totally converted if it wasn't for the expense - £130. I also get my brows dyed with Benefit's Brow Tint Service, £10.50 which makes a huge amount of difference – no painstaking drawing in required! But I want Instagram skin, too - the kind that looks all fresh and plump. So I try a skincare powerhouse duo - Fresh's Crème Ancienne, £205, which is like a a drip for the face, and Dermalogica Overnight Retinol Repair, £73, which boosts collagen levels and speeds up cell renewal for bouncy skin. I can see the difference after seven days – impressed.
So, I finally take a stupid morning selfie (with a layer of Elemis Pro-Radiance Illuminating Flash Balm, £37 – light-reflecting skincare is allowed, OK!) The truth? I look way better without make-up than I did a week ago. The downside? It's taken quite a lot of effort. I go to post my morning selfie, but my insides actually hurt with cringe so I can't. I just can't. Because I know I don't actually look like this. That makes me quite sad, if I'm honest. And, worst of all, lacking.
I always marvel at how some of the most prominent beauty instagrammers (like my faves, sonjdradeluxe and Annabellstyle) manage to look so flawless. 'It's old school Hollywood make-up,' says James Gager, MAC's creative director. 'Those are the tricks that were used back then. Now everyone is doing it, but every day.' Blogger Sophie Hannah Richardson (@sophiehannahrichardson) agrees: 'I tend to intensify my make-up and over-contour just so it shows up and is obvious in my photos. I get more hits when I only feature a portrait of my face.'
Sondjdradeluxe - my insta girl crush. I might need a face transplant before I look like her though, sadly.
So, I follow her lead and go hard. I actually contour with foundation (Make Up for Ever HD Foundation, £29) and set it with the darkest contour powder in Smashbox's Step-By-Step Contour Kit in Deep, £35. In daylight, I look like I should be on RuPaul's Drag Race – my face is on fleek. On social media, I'm fully 'blue steel' and look like everyone else. I then add Anastasia Beverly Hills Illuminator in Riviera, £28 (rumoured to be the one Kim K uses) and finish off by making everything else super-matte with MAC Blot Powder, £20.50. It's fine on the first day (although it takes me 25 minutes extra to do my make-up than it usually does) but by the second day, as I look in the mirror that morning my bare face looks, well, wanting. Instead of my chin, I see jowls; instead of cheekbones, I see chub. By the time I'm back to my regular make-up, I'm convinced I now look like a potato with eyes. That's after one week – and a very quick transition from happy-ish to obsessively insecure. Scary. Stuff.
Another beauty trend born from social media is matte, liquid lipstick – the kind Kylie Jenner now wears and pedals. That's because it's super-easy to 'over line' your lips with, creating the illusion of a fuller pout. Hourglass Opaque Rouge Liquid Lipstick in Icon, £23, does the job very well, but each time I remove it, my lips feel tiny, when they'd felt fine before. They look so lacking that I decide to do something highly uncharacteristic. After days of seeing girls with giant lips on social media (that I'm 99 per cent sure aren't real), I decided to get a little filler in my upper lip to even mine out. That's major – you can always tell when people have had lip filler – and looking like a blow-up doll is NOT my thing.
I'm told it can be done subtly. I enlist the brilliant Dr Barbara Sturm, and she pops some hyaluronic acid filler (starting at £350) into my lips. It hurts more than I expect, but the effects are immediate (as is the slight swelling and bruising). My upper lip looks fuller and more symmetrical. I can't press them together which takes a while to get used to. But will I do it again? Yes, I'm trapped now because I like the way it looks. Did I do it because of what I'd become used to looking at online? Yes, entirely.
Me, my filler and my Jeffree Star Liquid Lipstick. BFFs for life.
What I now know is that if I spend any more time doing this feature, I'll end up losing all sense of self-perception. In February, the British Association of Aesthetic Plastic Surgeons (BAAPS) found that the number of cosmetic operations grew by 13 per cent between 2014 and 2015. That's in a single year. I also spoke Harley Street plastic surgeon and founder of 111SKIN, Dr Yannis Alexandrides, who told me that people actually bring instagram screengrabs to him to illustrate what they'd like to look like. I'm not qualified to blame it on anyone, but an educated guess puts social media's beauty expectations fairly high on the list.
Injecting stuff into my face is my absolute limit, so I turn to apps. I watch a video tutorial with Facetune that shows me how to make my hair thicker (with the refine tool) and I whiten my eyes and slim down my face too. 'Never use just a filter,' says Jules Heptonstall, St.Tropez tanning expert and avid social-media junkie. 'I use Snapseed to selectively brighten and add contrast to my pictures first - it's like Photoshop on your phone - then VSCO cam for my filters.' I download these, too, and after using four editing apps, I stick the darn thing up. That's serious Rihanna-style werk.
I post the snap at 6pm – to coincide nicely with the home commute. After a few seconds' delay, I get ten likes. Validation! But I immediately want more. I eventually tally up 94 – that's way more than I'd usually get, and all because of my altered image. After a week of this, I've changed – I'm way more vain now. Even though I'm nowhere near as major as Essena O'Neil – the blogger who once boasted 612k followers but boldly recaptioned all her pictures to explain how much work went into a single image - I've had a slight taste of what it feels like to be an Insta-star.
Game face, and a million apps later….
I'm a fairly level-headed person, but after spending a week making myself fit into the narrow social-media beauty world, I know I need to readdress who I follow for the sake of my sanity (and if you're feeling the pressure, I urge you to do the same). Life's too short to feel crap about yourself every time you look at your phone and at the expense of genuinely living your life. There's only one thing left to do - pass me those Cadbury Fingers.
Thanks to Dr Barbara Sturm for the needlework. Follow Anita on Instagram and Snapchat @itsmeanitab.
Celebrity news, beauty, fashion advice, and fascinating features, delivered straight to your inbox!