Affairs are more acceptable than a decade ago
British people are less honest and more likely to condone bad behaviour than ten years ago, according to a new study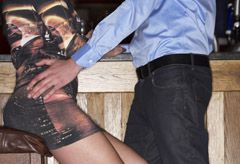 (Image credit: REX)
British people are less honest and more likely to condone bad behaviour than ten years ago, according to a new study
Researchers at the University of Essex have found that having an affair, drink driving and lying are more acceptable now than they were in 2000.
The survey of more than 2,000 adults also reveals that Brits are more likely to condone bad behaviour as a result of poor role models, according to the study's author professor Paul Whiteley.
'We think it is because their role models are not very good - footballers who cheat on their wives, journalists who hack people's phones,' he says.
'Gradually people are tending to become more dishonest, they are more willing to tell lies and more willing to tolerate adultery.'
The study of integrity also found that women are more honest than men, but only 50 per cent of participants agreed that having an affair was never justified, compared to 70 per cent in 2000.
One in three condemned lying in their own interest, while less than 20 per cent agreed that picking up money found in the street was never justifiable.
'If social capital is low and people are suspicious and don't work together, those communities have worse health, worse educational performance, they are less happy and are less economically developed,' says professor Whiteley.
'If integrity continues to decline then it will be very difficult to mobilise volunteers to support the Big Society initiative.'
Celebrity news, beauty, fashion advice, and fascinating features, delivered straight to your inbox!