How to make millions from blogging
What's the winning formula for monetizing your blog? Here, the world's richest blogging stars reveal their ultimate tips for turning your hobby into a career.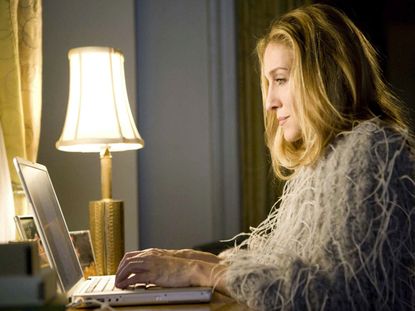 What's the winning formula for monetizing your blog? Here, the world's richest blogging stars reveal their ultimate tips for turning your hobby into a career.
Words by Natasha Courtenay Smith
If you started blogging a few years ago, it was probably as a bit of fun or a sideline. But Blogging is now a serious career choice.
Earlier this year, the first beauty blogger, Kristina Bazan, 22, from Sweden, signed a rumoured seven-figure contract with L'Oreal Paris, taking blogging to new heights. Like all businesses, while luck may play its part, as the industry matures, it's also clear there is a definite formula to success.
In my new book, The Million Dollar Blog, some of the richest stars reveal what works, what doesn't, the timescales and the routes to a profitable blog. Here's what you can learn from them. Launch strong
One thing is absolutely certain – you can't even begin to think about launching a blog unless it looks the part. And this means everything from your photography, through to your logo, fonts, colours and layouts.
Shaa Wasmund MBE (follow her blog at www.shaa.com) is an entrepreneur and author of two best selling books, 'Stop Talking Start Doing' and 'Do Less, Get More.' Her blog and the content she creates lies at the heart of her business and profile, which last year alone, enabled her to sell over 10,000 online courses, generating over $1m in recurring revenue, and train over 1000 people in business through workshops and award-winning retreats.
Shaa says: 'The look of your website and the content on it is your window to the world, so I can't tell you how important it is. I wasted a lot of time redoing my website and once had three different versions in the space of six months. It was worth it in the end though. But if I was just starting out and had any money to invest I'd spend it getting my website ready right from the off. Otherwise you set the wrong impression and end up spending more time and money redoing it. More than anything you need to be really proud of it! Don't settle for something you know isn't up to scratch and you are ashamed of; it'll undermine all the good you do elsewhere.'
Be business savvy
Many bloggers could make more money sooner if they understood their business model, treated their blog as a business and were more strategic about monetizing it. Two of the most business savvy bloggers out there are sisters Elsie Larson and Emma Chapman from Missouri are the owners of A Beautiful Mess, a DIY crafts and food blog with an income over $1.5million per year.
They strategically add an income stream to their blog each year, testing multiple ideas to work out which is the most profitable. For income, sell advertising BUT ALSO sell online courses such as scrapbooking and sewing to their craft audience as well as classes on blogging, photoshop and Instagram strategy. And it doesn't end there. They also have a range of their own stationery, books, planners, scrapbooking supplies, iPhone covers, cards, art prints and apps – their popular photo editing app has been downloaded more than 1 million times.
Work on your personal brand
Most bloggers feature in their work somewhere. So what makes you YOU? What makes you memorable? Your brand is part of what sets you apart and gives your own edge, your own story, your own message and your own distinctiveness.
Carrie Green is an entrepreneur who founded the Female Entrepreneur Association. Through sharing the stories of successful women on her blog, she has a hugely successful website plus social media followings of over 300,000, and a membership club for female entrepreneurs which has over 3000 members from around the globe paying $30 per month (and with a waiting list for entry). But Carrie leads via her personal brand - her overall mission that is bigger than herself, the fact that she is immediately likeable, you can tell how much she cares and she doesn't try to be any more than what she naturally is: a bright and enthusiastic woman trying to help others build businesses. To put it simply, one of the reasons Carrie is so successful is because people really like HER.
Start by asking yourself these questions. What do you stand for? What are your values? What are your passions? How can you truly serve your audience?
Focus on quality of traffic over quantity
It's important to remember that the number of people visiting or following your blog, and success aren't necessarily correlated. It doesn't matter if your blog is never as big as the huge media behemoths. Alice Audley is the editor of Blogosphere magazine, a quarterly print magazine especially for bloggers and aspirational bloggers.
She says: 'A blogger with a smaller audience, made up of an older and wealthier demographic is going to have more financial success with people purchasing their fashion recommendations than a blogger with a huge tween audience, who don't have personal access to a debit/credit card. Luxury bloggers do particularly well through affiliate links because their audience is older, self sufficient individuals who can take action and buy their recommendations.'
We can see these forces at play with quality over quantity with luxury blogger Coco Hamilton. She's the first to admit her following isn't the biggest, but her clear niche and personal brand means she's worked with some of the most luxury, high-end brands out there including Harrods, Harvey Nichols, Chloe and Cartier, has a six figure income, a team of staff and a lifestyle that will be the envy of many. Remember, your niche is also your audience
Niche is a buzz word online, but most people think it's about your blog's focused area of interest, i.e. your topic. But niche is bigger than that. It's also about you and your personal brand AND about your readers. Take two food bloggers in the 'clean eating' space (currently huge in the online world and extremely popular and competitive); one, a 20-something blogger, attracts and gains an audience that is young, carefree, childless and in the early stages of their career. Another, who has children herself, attracts an older audience of mums. Although essentially very similar in their niche in terms of topic, each blog will have different opportunities because they have different audiences.
One of the most powerful parts of a niche is who your AUDIENCE is. As it is them that advertisers will pay to access, using your blog as a vehicle to do so. A clear illustration can be seen with the political blogger Paul Staines, aka Guido Fawkes. The value in advertising on his blog comes because he is able to clearly define who his readers are.
Paul says: 'Back then in 2008, I was pricing adverts on Guido at £500 but not having much success selling them. Then someone said to me "Do you know the PM reads your blog?" and a lightbulb went on. We started pricing them at upwards of £10,000 and suddenly they sold.' So get clear about expressing who your audience is and why it will appeal to a brand to access them.
Remember, success takes time
There is a saying in the online world that 'Most bloggers give up in three to six months; and most of the ones who "make" it simply last longer than the others.' Consistency is the most important quality of successful bloggers. Whether this is once a day or a once a week, be organised, schedule your posts and don't stop posting. Remember, the most successful content strategies are more about consistency over time than one blog post going viral.
Madeleine Shaw is one of the UK's best known health and wellness bloggers. She has an audience of millions including 300,000 monthly visitors to her website, and over 220,000 followers on Instagram. She has two bestselling books, an app with over 31,000 downloads, a food range in Harrods, a monthly supper club in Fulham - and continues to create content for her hugely successful blog. It might seem looking from the outside in that Madeline is an overnight success story. But Madeline started on this journey three years ago, and says 'Remember that everyone starts from nothing.'
So what are you waiting for? What is clear is that no successful blogger of the 50 or so I talked to for their book had all the answers before they started. Don't wait, don't over-analyse, don't paralyse yourself with procrastination, don't be scared, don't be shy, don't worry about the whats, hows and the whens.
Commit to content creation and making your dream a reality. It's not a get-rich-quick scheme; it's a journey. But if you embark on that journey properly, you can build the same success as others have already done. So get out there and get started. The Million Dollar Blog is available to pre-order on Amazon.co.uk
Celebrity news, beauty, fashion advice, and fascinating features, delivered straight to your inbox!
The leading destination for fashion, beauty, shopping and finger-on-the-pulse views on the latest issues. Marie Claire's travel content helps you delight in discovering new destinations around the globe, offering a unique – and sometimes unchartered – travel experience. From new hotel openings to the destinations tipped to take over our travel calendars, this iconic name has it covered.