Wedding decoration ideas to make your marquee look stylish
Marquee decoration ideas that will make your wedding win Instagram without blowing the budget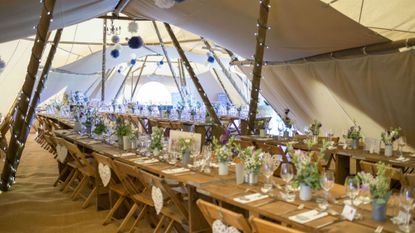 (Image credit: Country Tipis)
Marquee decoration ideas that will make your wedding win Instagram without blowing the budget
Pinterest is full of ideas that can transform a humble white tent into an Insta-worthy wedding. Lighting, flowers and surprising DIY touches all make a difference, but what are the hottest trends set to turn heads this wedding season? Time to transform your Pinterest board dreams into an affordable reality thanks to these new marquee decoration ideas
Balloons are the new bunting
One of our favourite marquee decoration ideas comes in the shape of a balloon. But not just any balloon. Forget the foil, garish things on weighted strings - leave those for the kids' birthday parties - wedding balloons right now are opaque, round (this is crucial for maximum Insta-appeal) and come complete with on-trend tassels or pom poms. Choose yours in poppy primary colours for the fun factor or chic white orbs. Cue: a million #upupandaway social posts. The brilliant Bubblegum Balloons are the go-to guys for this - bespoke balloon bundles delivered the very next day. 'Balloons are quickly becoming the must-have decoration at weddings and we're loving the array of requests we're receiving from our brides-to-be,' says Ellen from Bubblegum Balloons. 'Whether tying Mr and Mrs balloons to the bride and groom's chairs, or having an ombré of balloons in the wedding colours behind the top table, balloons help bring to life the couples' vision of their big day.' In short, balloons may just be the new flowers.
Credit: Instagram/ @3BubblegumGirls
Hire a wedding tipi
Until a couple of years ago, all that was really on offer for outdoor weddings was to hire a big white tent to use as your blank canvas. And the prospect of turning a plain white cube into a stylish space was somewhat overwhelming. A cooler alternative for rustic garden or field weddings is the giant kata tipi. Companies like Country Tipis have seen a fivefold increase in bookings in the last year, according to founder Richard Knapp who says 90 per cent of enquiries come from couples looking for a more unique, relaxed alternative to the traditional white marquee. You can choose whether you have one, two, three or more giant tipis woven together depending on the size of your party, and with their exposed wooden frameworks they need little more than a set of carefully placed fairy lights to create an awesome backdrop to your big day (think Secret Garden Party-meets-walk-in-the-woods). Country Tipis also provide all the marquee decoration ideas you might want to add - handmade wooden scaffold tables and benches, vintage French wine barrels for drinks' stands, and a pop-up bar in a repurposed horse box. Visit countrytipis.co.uk for more inspiration.
Credit: Country Tipis @benjamingreen2
Colour coordinate your confetti
We've all been there - it's a July wedding and as you dip your hand into the communal confetti basket on a hot summer's day, you think you've grabbed a good substantial handful to lob at the bride and groom but when it comes to the big moment, it sticks to your sweaty hand like feathers in tar. Enter: Confetti Pops. Launched by Shropshire Petals, the latest accessory to hit celebrity weddings and in-crowd celebrations is a cross between a party popper and a box of confetti. Think of them as mini handheld confetti canons - essential for getting the confetti money shot just right. What's more, they come in beautifully curated colour combos called lovely things like Flamingo Pink and Golden Slumber, or you can pick n mix your own to match the decor. They are all made from natural delphinium and wild flower petals and are 100% biodegradable so you won't leave any mess behind once the tent has been taken down. Prices start from £2.55 per Confetti Pop.
Credit: Instagram @shropshirepetals
Marquee decoration ideas with lighting
Because nobody wants to dance in the dark. 'Elaborate entrances are a big trend for weddings this year and using festoon lights to illuminate the walkway to the marquee will create that magical atmosphere for guests as they arrive,' says Stephen Alty, general manager at Festive Lights, the UK's leading event lighting specialists. 'Draping strings of festoons above head height can also create a tunnel of light effect, which looks spectacular. Special free-standing hooks can be used for this, or trees on the approach if it's in a woodland setting. Warm white festoon bulbs have a retro look which contrasts beautifully with the rustic elements of a marquee and intertwining battery powered wire lights amongst floral arrangements is popular with wedding stylists as a glamorous, yet affordable way to add sparkle to table centrepieces. A big trend this years is to fill mason jars with battery powered tea lights or bundles of fairy lights. These look beautiful suspended outside and as most will have timers, you don't have to remember to blow them out as you would with candles.'
Make a greenery chandelier
Forget bunches of baby's breath in recycled jam jars, this wedding season is all about the Pantone colour of the year: greenery. And there's a whole raft of DIY marquee decoration ideas out there when it comes to recreating the look. Top of the list is the greenery chandelier - a simple but effective way to give your wedding or party a cool woodland vibe. Speak to your florist about bespoke designs but for an option that's friendlier on the purse, buy a standard hula hoop and drape it with your own choice of greenery. Speak to your florist about cuttings of soft ruscus, eucalyptus and ivyArtificial plants and flowers are available in homewares stores, such as Homesense, or if you're after something more authentic, take a pair of shears to the garden hedge and get busy.
Credit: Instagram @blossomsbylisa
Celebrity news, beauty, fashion advice, and fascinating features, delivered straight to your inbox!