Easy Escapes: Learning to ski in the Dolomites, Italy
Novice skier Caroline Garland hits the slopes in the South Tyrol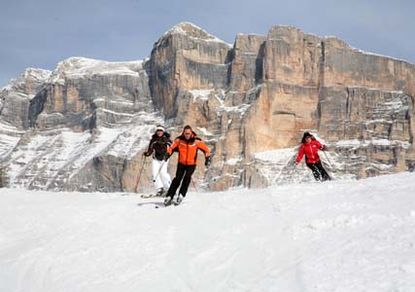 Novice skier Caroline Garland hits the slopes in the South Tyrol
Novice skier Caroline Garland hits the slopes in the South Tyrol
Why go? Because the mountain scenery around Alta Badia is beautiful, the sun shines 315 days a year, there are 20 Michelin-star restaurants in the area, and it's full of gorgeous Italian men... If you're a complete beginner like me it's the perfect place to learn as there's lots of space and more than half the runs are classified as blue (easy). When? Now. The ski season here traditionally runs from late November to April as weather permits. Average daily temperatures in winter are below zero falling to minus 20°C at night. Alta Badia is a very sporty resort with lots of events on, including endurance races and a wine ski safari – for a listing see here.
You really must... I've never been skiing before but this is a great spot for a Bambi-legged newbie like me. I start with two private lessons with a very patient instructor from the Ski & Snowboard School in La Villa (scuolascilavilla.it), prices range from £26 to £58 per hour depending on season. Equipment must be hired separately including skis (£14 per day), boots (£7) and helmet (£3). The more days you book the cheaper the cost. You can buy ski passes from the office at the bottom of each ski lift or book online (dolomitisuperski.com) and get them sent to your hotel in advance.
That'll be me one day... the thrill of skiing in Alta Badia © Consorzio Turistico Alta Badia/Freddy Planinscheck
Prices depend on the start date but are from £38 per day until 1 February 2014, the more you book the cheaper the pass. So as not to waste time out here I had a couple of beginner lessons at Snozone (snozone.co.uk) in Milton Keynes before my trip and it was very useful to know a few moves – basically snow-ploughing and stopping – before arriving. Once on the real slopes, be prepared to see seven year-olds zipping past with effortless skills, which tempts you to try and pick up speed (the fun part). My first lesson, though, is all about acquiring technique, but every day you can push yourself to go a little faster and perfect those turns. On a weekend break I get to the point where I can try moving to parallel turns (as the pros do when skiing between flags) which I'm quite proud of. What I love most, though, is just learning something new in such a beautiful environment, and I spend many moments looking in awe at the mountain scenery and breathing in all that pure, ice cold air. The inevitable falls and bruised knees are all part of the fun of trying to join the adrenalin junkies long before I'm ready, but now I'm hooked and will be returning soon.
When you fancy a change from skiing or boarding go for a snowshoe walk with a local guide. Mine turns out to be Maria Canins, an Italian racing cyclist who competed in two Olympics, who takes me into a majestic world of mountain peaks and historic battlegrounds with trenches left from the First World War. Book with Cross Country Ski School Alta Badia (scuolafondo.it), from £21 for two hours.
Box of delights: a bedroom at Berghotel Ladinia
Stay at: Berghotel Ladinia (berghotelladinia.it, from £93 per person half-board) is a new family-run hotel set in a charming 1930s house with 13 rooms, plus a great restaurant and terrace serving traditional and wholesome local produce. Hotel La Perla (hotel-laperla.it, from £194 per person half-board) is a more luxe hotel with 52 rooms, three excellent restaurants, a spa and impressive wine cellar.
Dine at: The South Tyrol is a famous place to combine skiing with gourmet eating, and a great way to do this is to buy a Slope Food Card from a tourist office, which costs £10 per hut or £25 for three. This lets you combine your skiing with stops at one of 14 participating huts around Alta Badia that serve delicious finger/street food created by local Michelin-star chefs such as Norbert Niederkofler from St Hubertus (rosaalpina.it), Arturo Spicocchi from La Stüa de Michil (hotel-laperla.it), and Matteo Metullio from La Siriola Restaurant (siriolagroup.it). Each dish is served with a glass of wine chosen by each restaurant's sommelier, which I'm definitely blaming for my last fall of the day...
For a kick-start breakfast, set your alarm for 6am so you can jump on a Snowcat at 6.50 and head up to the Las Vegas Lodge (lasvegasonline.it), which is much cooler than the name suggests. The views are superb and breakfast (£16) is a feast of nuts, honey, bread, speck, eggs, apples and apple juice. Then you can head to the slopes for the first fresh powder runs of the day.
The Dolomites look even more beautiful with a glass of wine in hand... © Consorzio Turistico Alta Badia/Freddy Planinscheck
You might also head to Club Moritzino (moritzino.it), next to the cable car station of Piz La Ila. Every Wednesday and Saturday they open the ski lifts at night for a gourmet rave (£66) – the food is fab but the music something of an ordeal (think Europop of the worst kind). It's worth it though (I don't think you can get bad food anywhere), just to enjoy incredible dishes like mushroom tortellini with chestnut cream and truffle oil. The journey back down the mountain is by Snowcat, although the brave ski down in the headlights...
Bring home: A new awe of how beautiful our planet is, and a bottle of local Lamarein wine (fws.it) to remind you from your front room.
Book now: easyJet (easyJet.com) flies from London Gatwick to Verona from £63 return, transfers to Alta Badia take just under three hours. Many tour operators offer packages to the Dolomites including Crystal (crystalski.co.uk), Inghams (inghams.co.uk) and Momentum Ski (momentumski.co.uk).
Info: Find out more at suedtirol.info and altabadia.org. Visit goskigoboard.org.uk to book a taster session at your nearest snowsports centre. Other useful websites are firsttimeskier.co.uk, skiclub.co.uk and wheretoskiandsnowboard.com.
Celebrity news, beauty, fashion advice, and fascinating features, delivered straight to your inbox!