10 Best First Date Bars In The UK
We are all familiar with hitting the panic button come the first date, which is why we have teamed up with Designmynight.com to provide us with the UK's best bars for a first date.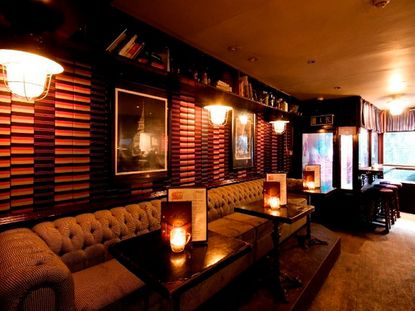 We are all familiar with hitting the panic button come the first date, which is why we have teamed up with Designmynight.com to provide us with the UK's best bars for a first date.
With this obstacle out of the way you lovely ladies can now return to more pressing matters, like choosing a flattering outfit and tackling those unwanted butterflies. The London Cocktail Club, Goodge St, London The London Cocktail Club, located on Goodge Street, is no doubt the perfect venue to test the waters on the first date. Get talking about anything and everything over some of the venue's delicious cocktails and British grub. Winner of the Designmynight.com Best Cocktail bar award, one thing's for sure, if you don't enjoy your company - you'll enjoy the drinks.
Casa Negra, London Spice up your date night by heading to Shoreditch's Casa Negra. Mexican cuisine and frozen margaritas are at the heart of this venue's success and they pride themselves in using the best ingredients available. Take a shot at love, or a shot of tequila, and fuel yourself with a buzzing atmosphere that you won't find anywhere else. If the night goes to plan you might even find yourself in the Casa Playroom – the mysterious club below Casa Negra.
Oskar's Bar at Dabbous, London Oskar's Bar is situated below the famous Michelin-starred restaurant, Dabbous, and is the ideal choice if you are looking to impress someone special. Exposed brick work, lazily lit lights and warehouse furniture give the place a speakeasy vibe to start your night off with decadence and relaxation.
Bounce, London Bounce, in Holborn, is the ultimate ice-breaker venue with its ping pong restaurant and bar concept. Enjoy British inspired cocktails and delicious wood-fired pizza while you bat your paddle and long eyelashes across the table. Guaranteed to give you a fun way of getting to know your date, this place is a no-brainer in entertaining your man of the hour.
Dusk Til Pawn, Manchester Disguised as an actual Pawn Shop, this speakeasy cocktail bar brings something a little different to Manchester. Brandishing a killer choice of cocktails that change every week, Dusk Til Pawn will please the fussiest of palates. The dark prohibition style of the bar creates sexy vibes that cater for first time dates.
The Violet Hour, Manchester As far as sophistication goes, The Violet Hour in Manchester could not come more highly recommended. Tasty meat and cheese platters are available and won't leave you attacking your mouth with a napkin every 2 minutes. Their bespoke cocktails will keep you happily hydrated and for a bit more interaction on your date you could always enquire about their bespoke cocktail-making classes.
BYOC Brighton, Brighton Place your faith in the hands of BYOC Brighton for a truly unique experience. Bring your favourite spirit (and date), to be amazed at the delightful concoctions made for you both by the talented mixologists. Beautiful dark wood interior, red velvet chairs and brick work add character to the venue and will leave you looking for an excuse to stay for another drink.
The Lost & Found, Birmingham Lost & Found in Birmingham has all the secrecy and mystery to match the excitement of a first date. After sipping on some creative cocktails and getting to know a little bit more about each other why not add a bit of fun to your evening and go looking for the venue's secret bar. Suss out this Victorian style bar's secrets, and hopefully your dates, at this quirky venue.
The Jekyll And Hyde, Birmingham Add some pizazz to your choice of date venues and visit The Jekyll and Hyde for some splendid entertainment. Quirky in its own right, this is a sister bar to Birmingham's Island Bar and hosts retro quiz nights and film club nights. Shove aside your nerves and embrace every moment with your date in this Victorian style world.
Hillhead Bookclub, Glasgow The atmosphere of Hillhead Bookclub is second to none. A winner in the date department, this venue places its entertainment in its mid-week events like ping pong every Monday and a craft class every Tuesday. Take a different approach and surprise your date with an alternative to the usual drink and chat routine.
For more great, bars clubs and events visit Designmynight.com.
Celebrity news, beauty, fashion advice, and fascinating features, delivered straight to your inbox!