Women call on Scottish government to launch breast implant enquiry
Women linked to the recent breast implant health scare are due to meet Scotland's Health Secretary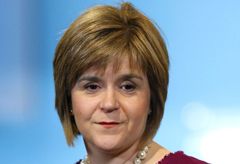 (Image credit: REX)
Women linked to the recent breast implant health scare are due to meet Scotland's Health Secretary
In the wake of the recent PIP breast implant scandal, women are calling governments to enforce stricter rules for implant procedures to avoid further health scares.
Around 1,300 Scots have the French-made Poly Implant Prothese (PIP) implants that have been at the centre of the recent scandal.
While many women are living in fear as a result, a delegation of these women are expected to call on the Scottish government to hold a public enquiry by meeting with Scotland's Health Secretary Nicola Sturgeon today.
Ms Sturgeon says the private firms who used the implants have a moralduty to do the right thing by women who they operated on.
The use of PIP implants caused an international health scare after it emerged that they were made with non-medical grade silicone.
Labour's health spokeswoman Jackie Baillie will accompany the group to Holyroad where they will meet the minister later.
'I am pleased the health secretary has agreed to this meeting, but it cannot afford to be a talking shop or box-ticking exercise,' she says. 'The victims of this scandal deserve answers and expect action.'
Spokeswoman for the PIP campaign group, Trisha Devine, says women involved are living in an absolute nightmare.
Worried patients can have their implants removed by the NHS, but not replaced, if their private clinics refused or have gone out of business.
A spokesperson for the Scottish government says: 'We are supportive of the group and have been very clear that private healthcare providers have an obligation to give their patients the same level of care as our NHS.'
Women who are worried about their implants and would like advice can visit the NHS Inform website for more information.
Celebrity news, beauty, fashion advice, and fascinating features, delivered straight to your inbox!