Healthy lifestyle could prevent breast cancer
We know eating a good diet and taking regular exercise is good for us, but new research suggests a healthy lifestyle could even prevent breast cancer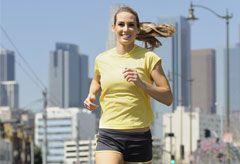 (Image credit: Rex Features)
We know eating a good diet and taking regular exercise is good for us, but new research suggests a healthy lifestyle could even prevent breast cancer
Almost half of all breast cancer cases could be prevented if women lived healthier lifestyles. According to a new study, as many as 20,000 British women could avoid the disease by simply eating better, drinking less and exercising more.
The World Cancer Research Fund recommends taking half an hour of physical exercise a day, limiting alcohol consumption to just one drink a day and losing weight.
'It is very worrying that in the UK there are still tens of thousands of cases of breast cancer which could be prevented every year,' says Dr Rachel Thompson, from WCRF. 'Breast cancer can be prevented by cutting down on drinking, being more physically active and carrying less body fat.'
The latest figures suggest that 47,600 women developed breast cancer in 2008, but the WCRF estimates that 42 per cent of these cases would be preventable if women developed healthier lifestyles.
The WCRF Recommendations for Cancer Prevention include being as lean as possible without becoming underweight; keeping fit and limiting consumption of fatty, salty and sugary food and drink.
The guidelines also suggest eating more fruit, vegetables and pulses; eating less red meat; drinking less units of alcohol and choosing a balanced diet rather than vitamin supplements.
Some campaigners, however, claim breast cancer is more complex than that and simply living healthily may not always be enough to avoid tumours. Rachel Greig from Breakthrough Breast Cancer warns that genetic and environmental factors can also play a part.
Celebrity news, beauty, fashion advice, and fascinating features, delivered straight to your inbox!