Drinking at dinner will undo your diet
Ordering a salad and skipping desert might make you feel virtuous, but if you accompany your meal with an alcoholic drink your efforts will be in vain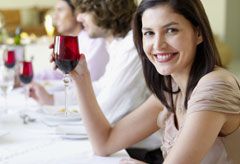 (Image credit: Rex Features)
Ordering a salad and skipping desert might make you feel virtuous, but if you accompany your meal with an alcoholic drink your efforts will be in vain
Many dieters unknowingly undo their healthy eating efforts by accompanying their meal with their favourite alcoholic drink with two out of three Britons unaware of how many calories are lurking in their chosen tipple.
Women who cut down on carbs or deny themselves a sweet treat to stay trim will be horrified to know that one glass of champagne contains the same number of calories as a slice of treacle tart.
A glass of wine is the equivalent of a choc ice at 134 calories and two Yorkshire puddings could replace two gin and tonics after work. Although 50 per cent of consumers are desperately trying to shed a few pounds, they make no plans to reduce their drinking.
Chris Sorek, chief executive of Drinkaware says: 'While they might make healthy lifestyle choices in other areas of their life, they might not know that sharing a bottle of wine with their partner exceeds the daily unit guidelines and is the equivalent of eating a slice of cheesecake.'
The charity, which surveyed 2,000 adults, found that while one in three people intend to monitor their calorie intake, only 10 per cent considers reassessing their alcohol consumption.
People can become obsessive about reading the calorie content on the back of a sandwich and many know that a cheeseburger contains around 350 calories but less than one third of adults acknowledge that there are 134 calories in a 175ml glass of wine.
Government guidelines in the UK recommend men drink no more than four units a day and women no more than three, with two alcohol free days per week but many people drink considerably more than their suggested limit.
Drinkaware is launching an online drink diary, which converts the user's consumption into units, calories and costs – equating the number of calories to burgers to emphasise the correlation between alcohol and abdominal obesity.
For help and advice on cutting down your alcohol consumption visit www.drinkaware.co.uk
Celebrity news, beauty, fashion advice, and fascinating features, delivered straight to your inbox!