Dear Dolly: My husband said someone else's name when we were doing IT
But first, Dolly talks Adult toys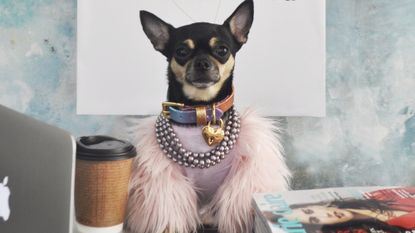 But first, Dolly talks Adult toys
With Halloween on the horizon there have been more ghosts from my past coming back to haunt me this week than I will ever see on the 31st Oct. It started with an ex that decided now was a good time to exorcise his rights to a piece of art we bought together. Fuck off Kevin, the repro Banksy got thrown out with your cheating Calvin's bruh.
Moving swiftly on. How many of you love the excitement of dressing up - role play, or fully exploring the world of fantasy? As adults there are so many ways of exploring, with a willing partner (Kevin was not one of those) or by yourself - which in my experience works every time.
What happens if you are in a relationship that requires more in the bedroom? OR what about all of us single people out there ready for more than just a scream on Halloween?
Let me shed some much needed light on the season of pumpkin spiced lattes and sexy costumes in my round up of making the most of out of this holiday in your own party of all parties!
Now there's one thing I have to get straight, whether you are or not, self-exploration and understanding your body is not an indulgence, it's a given right. I don't beat around the bush - unless it's my own - preferably with something of the 8 inch and above variety. I'm not into cocktail sausages.
I have explored the best vibrators and places to source costume and adult toys. So if you're still reading, sit back, relax and get your wish list sorted with my top 5 to have in your bedroom, suitcase, cross bodybag or well, wherever you damn well please!
Discovering what you need should be your treat this autumn. What you like, what you love or that something you must try - it's is all about getting to know yourself, your body is "yours" and no one should know that better than you. Here are a few of my favourite "ME" time treats. Trick or treat yo self!
Lubrication is key, whether it's a latte, a martini or something more intimate try the CoCo de Mer Divine Glow Aqua Lubricant it is LUXE and you know I am all about that life at £24.99 it's a luxury we should all Splash out on. It is a water based lube so you are safe to use with sex toys and condoms. It's there to heighten sensation during sex and masturbation, can I get an Amen!
Let it not only be the chilly nights that are coming and warm up with the Ann Summers, £8.00 heat wave warming lube. With the ability to heat things up and add to your orgasm, who could say no?
Explore the season completely in costume. There are so many options out there, go for something you'd never normally wear. If you are single it's something you are less likely to explore and that's wrong. Try experimenting with how you feel in costume and let's face it; if you look good you're going to feel good. Try Harmony online or in store. With so many costumes, sex toys and adult extras it may be hard to choose but you can't wrong with a classic cat woman and whip, like this Dreamgirl Fetish Feline costume, £29.99. Just saying.
My two best October go to vibrators are a classic minx silky totally silent vibe, like this Silencer Totally silent, £8.99 one, because sometimes you just need to get off in places you don't want anyone hearing (when the office work load is too much) slip it out your purse and access all areas.
And of course a classic rampant rabbit because nothing is going to stimulate you faster than this bad boy. If you want a quickie in your sex toy draw there are so many options for rabbits the list is endless; Dual, g.spot, clit, thrusting. Get busy ladies. Do you.
Oh and FYI. Life is TOO short for shitty sex and bad relationships, find someone who loves you right and treats you how you deserve to be treated! #WordsToLiveBy
What Would Dolly Pawton Do?
Dear Dolly,
My husband and I have been together for 6 years. Our sex life in my opinion is the best it can be. It's never stale and we always give each other what we need so I have no complaints.
Over a month ago now my husband and I were having sex when he called me "Kell"
I was in shock because he said someone else's name totally oblivious and continued on.
I then had to get out of the situation pretty quickly and faked an orgasm but was left feeling hurt.
I can't quite get over what happened. I haven't spoken to any of my girlfriends about it as I'm too embarrassed. I don't want them to know he maybe having an affair. They all say we have the perfect relationship.
Who is Kell? Could he really be cheating? I've found myself doing things I wouldn't normally do like going through his phone and computer but I can't find anything to suggest deceit.
Do I speak to him about it?
I mean we haven't had sex since and it's unheard of, I just keep putting it off and he keeps asking me what's wrong and am I okay.
HELP!
Anonymous.
Dear Everyone!
Dear definitely not Kell!
This is more common than you think and I chose your "Dear Dolly" as it fits so well with my Halloween and sex column this month of being open. Your friends shouldn't be in anyway let down in you sharing your truth, the pedestal they have put your relationship on isn't fair. Don't apologise for your "REAL" relationship with adult issues that arise. You should be able to talk freely.
GURL.... everyone has problems and your friends will understand this. Adults have different ways of expressing themselves and I for one am up for them all, with participating adults, consent and fun! Where I am going with this.. well over half of adults during sex with their partner have fantasised about another.
Does this mean that half aren't happy, they aren't totally in love or even more attracted to their partner, NO. It's discovery and while we can't be sure why your husband had this outburst of another's name, I also think you need to discuss this with him before jumping to conclusions. Of course he could be naming a lover...... but with every area in your relationship so healthy you have to question why he would risk it all with an affair.
I guess we will never know until you have that conversation. Second guessing and putting yourself through unneeded stress and pain is now affecting your intimacy and holding back would be a natural response.
Get it sorted! You both deserve the truth.
London Love
Don't forget, you too can ask Dolly a question.
Nothing is off limits so consider me your Dollylama (spiritual guru) here for all the real talk. Write in at dollypawton@gmail.com
Don't worry you can be anonymous!
Celebrity news, beauty, fashion advice, and fascinating features, delivered straight to your inbox!
The leading destination for fashion, beauty, shopping and finger-on-the-pulse views on the latest issues. Marie Claire's travel content helps you delight in discovering new destinations around the globe, offering a unique – and sometimes unchartered – travel experience. From new hotel openings to the destinations tipped to take over our travel calendars, this iconic name has it covered.