Accessing the morning after pill in the UK: extortionate costs and unnecessary consultations
'It's taking people who need an emergency treatment and profiteering from that'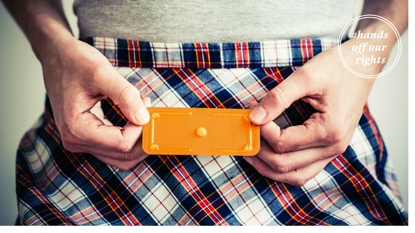 'It's taking people who need an emergency treatment and profiteering from that'
Words by Hannah O'Neill
The 'walk of shame' is a concept as old as the history of hook ups, and it says everything about society's attitude to casual sex.
Everyone's is different. It might involve a pit stop for Lucozade, or a quick call to your friend to debrief. And sometimes, it includes ducking into the local pharmacy to buy an essential back up: the morning after pill.
The morning after pill, or Levonelle, was first made available in pharmacies around 15 years ago. The price was set high, in an effort to dissuade women from seeing it as a long-term option.
Prices vary, but emergency contraception can cost between £25 and £30 in UK pharmacies – five times the amount it is in other European countries. Reports last year flagged up that it was available on Ebay for as little as a fiver, and in France, you're looking at a price tag of around €7.
Women can access the morning after pill for free in this country, but first they must go through a mandatory consultation with a pharmacist. Usually this involves questions about medical history and other medications you might be taking, but sometimes pharmacists go rogue with their line of questioning.
Maddie, 28, recalls being cross examined on how many people she'd recently slept with, whether she used protection, and her relationship to her sexual partners.
"It was just generally an ordeal. I couldn't see how that information was relevant," she says. "It's hard for it to be a non-judgmental exchange when the questions they're asking are so invasive."
In an effort to remove the twin obstacles of high cost and unnecessary consultation, last year the British Advisory Service (BPAS) launched their 'Just Say Non' campaign.
Its premise is that a woman can get the Eurostar to Paris, grab a coffee and a croissant, pick up emergency contraception for around €7, and get back with change from £30. In the UK, you're looking at spending that in one trip down to your local Boots.
"That's a problem in many respects, especially when you consider we are living in an era where sexual health services are becoming increasingly restricted," says Clare Murphy, Director of External Affairs for BPAS.
BPAS argue that considering emergency contraception carries no risks for women taking it, the obligatory consultation is unnecessary.
"It's safer than aspirin, or some of the other things that are readily available off the shelves," Clare points out. "Nicotine replacement products, for example, can be harmful to children. But the benefits are seen as outweighing the risk."
Dr Khaled Sadek GP, from The Smart Clinics, agrees that while in a large proportion of women it is completely safe to use, there are certain health conditions that could impact its efficacy.
"There's are certain drugs that increase the activity of enzymes in the liver, and therefore speed up the breakdown of this pill, making it less effective," he explains.
"Alternatively, the woman might be taking concurrent medication that increases the alkalinity of the stomach acid, and this has an effect also."
For this reason, he says, it's hard to see the consultation being removed completely. But he does agree that the questions asked by the pharmacist need to be standardized: "The threshold to accessing it needs to be lower."
Ideally, he says, women and girls should be educated on long-term contraceptive options: "The issue is that you're selling the morning after pill when what you want to be selling is good sexual health."
Testimonials collected by BPAS also tell of a culture of shame that still clings to emergency contraception.
One woman writes that she felt like she was being punished, even though she was doing the right thing. Another said it was embarrassing to have her sex life discussed within earshot of complete strangers.
But for some, it goes beyond that. One woman wrote to BPAS saying, "[The pharmacist] just gave me a lecture in the middle of the shop floor, in front of the condom shelves, about how I needed to be more careful and use condoms.
"I was raped…I felt ashamed and it's one of the things that happened after being raped that helped to retraumatise me."
BPAS want pharmacies to do more to make emergency contraception more accessible for women, such as providing information cards on the shop floor. It also wants Levonelle to be re-classified as a general sales drug, and for the price to reflect the manufacturing cost.
"The position women are left in is, do I spend £30 when my risk is quite low, or do I take the chance?" says Clare.
"Considering the price it's pitched at and what women have to go through to get it, it's really not surprising that sometimes they do take that chance. And often they'll be fine, but sometimes they won't and they'll either end up with us or going through with a pregnancy that they don't want – and that puts them at far greater risk."
Celebrity news, beauty, fashion advice, and fascinating features, delivered straight to your inbox!
The leading destination for fashion, beauty, shopping and finger-on-the-pulse views on the latest issues. Marie Claire's travel content helps you delight in discovering new destinations around the globe, offering a unique – and sometimes unchartered – travel experience. From new hotel openings to the destinations tipped to take over our travel calendars, this iconic name has it covered.