We Tried Designing Our Own Shoes... And This Is What Happened
We've all been there: You're out shopping and you spot a stunning pair of shoes that would be the perfect addition to your wardrobe… except for that one thing.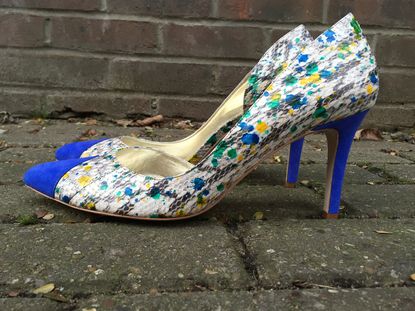 We've all been there: You're out shopping and you spot a stunning pair of shoes that would be the perfect addition to your wardrobe… except for that one thing.
Maybe the heel is too high, the colour is too bright or the toes are too narrow. But if you could design them yourself, you could make sure they're just right.
Thankfully a few websites have popped up over the past several years that allow you to channel your inner fashion designer and create your own customised shoes. You can choose from several styles (including courts, oxfords, ballet flats and boots) and seemingly endless varieties of colours, prints and fabrics. And the best part? They can be made to fit any size feet.
Okay, some women might think the gorgeous fabrics would be the best part - but because I wear a size 10, which is near impossible to find, the size thing is what drew me in. I decided to try a few of the different sites and compare the results.
I went through the entire design process for three different companies: Upper Street Shoes, Shoes of Prey and Selve Luxury Shoe Individualizer. They all had different strengths and I ended up with three lovely pairs of shoes. The decision process was tricky and I felt a bit of pressure to get it right - but all three offered free shipping and a complete promise to remake my shoes if I wasn't in love, which helped ease my mind.
Here's how things went down:
Upper Street Shoes Location: London Cost: £195 - £300
The story: London native Julia Elliott Brown started the business with her sister in 2009 - partially to meet her own footwear needs. 'I was always going shopping for a specific pair of shoes in my head,' she says. They quickly carved their space in the affordable luxury market, focusing on quality, fit and comfort. 'It's so important that your shoes look beautiful and feel comfortable - especially if you're on your feet for a few hours a day.'
The process: The obvious thing that sets Upper Street Shoes apart from the others is that it has a physical storefront in London - so if you live nearby and are able to visit in person, you have a significant advantage. Book a (free) appointment at the beautiful townhouse in Soho to get the full in-store experience, which includes seeing and touching samples of all the fabrics, admiring loads of finished shoes for design inspiration and trying on shoes in different sizes and styles until you find the pair that's just right for you. Plus, you get the benefit of a stylist who will offer advice and help you make your decision. And, if you're indecisive like me, she'll sit patiently for an hour while you carefully examine every fabric combination and change your mind 87 times.
The result: Even though it's winter, I wanted something bright and cheery that I could wear year-round. I chose a classic pointy-toed court with a three-inch heel and a fun snakeskin print. I used a blue suede to use as an accent for the toe cap and counter heel. They also offer the option to have an inscription written on the inner sole, so I chose to write: 'You look nice today.' It can never hurt to have an extra boost of confidence when you put your shoes on! I received them in about two weeks, and I was really impressed by the quality and attention to detail.
Shoes of Prey Location: Sydney, Australia Cost: £109 - £200
The story: Started by Jodie Fox in 2009, Shoes of Prey was an instant success that broke even in just two months. Six years later, it's an international company with five offices around the world. (Though, sadly, no London store - yet.) For Jodie, the best part has been helping women find their perfect shoes. 'A lot of women just know exactly what they want and can't find it anywhere,' Jodie says. 'It might be a bride who wants a specific shade of orange shoes. Or maybe it's a woman with a larger foot. Or maybe you have bridesmaids of different heights who all want the same style shoes in different heel heights.' She says they even had a male customer who wanted to propose to his shoe-loving girlfriend, so he designed her a pair and had 'Will you marry me?' stamped on the inside. 'We loved the idea, so now you can get anything you want written inside your shoes.'
The process: Of all the websites, shoesofprey.com is probably the most slick. (Not surprising, considering Jodie's two co-founders came from Google.) It's modern, user-friendly and features loads of videos detailing the design process and different options. The wide range of materials includes soft leathers in every colour, rich suedes and genuine snakeskin and fishskin. Don't be surprised if you get sucked in and spend hours trying every possible combination.
The result: For this pair, I went for the classic Oxford style. I was really tempted to mix different colours and fabrics, and I was so close to doing black and white… or gold and white… or leopard print hair. (Seriously, it's really difficult to choose.) But in the end I chose the shiny silver snakeskin for my material, with matching silver laces and dark blue soft leather for the interior. I received them in about three weeks and couldn't wait to take them out for a stroll. They're comfortable, fun and surprisingly versatile.
Selve Luxury Shoe Individualizer Location: Munich, Germany Cost: From £355
The story: Founded in 1999, Selve is a decade older than the others and claims to be the first company to offer customised shoes for women. 'Our focus is on elegant lady shoes made of high-quality leather,' says Leila Alavi, head of design. 'We're all about the quality and service and do everything we can to make them as comfortable as possible.' If you happen to be in Munich, you can pop into their showroom - but for a more local shopping experience, you can also wait and visit one of the London trunk shows held every few months. The process: Of the three, Selve has the widest range of styles available (including knee-high and ankle boots). It's also the most expensive - but the price promises an extra level of service. You can use the guide on the website to determine your closest fit and then they'll send you a box with six try-on shoes (and a free return label). A helpful representative will then talk you through which ones fit and which ones pinch (and where) to help determine your perfect shoe size. You can also select a variety of fabric samples to be sent with the try-on shoes to help you make the decision.
The result: After receiving the try-on shoes, I placed my order. I chose the Ayzit Chelsea style ankle boot and tried a mixed-material approach: burgundy patent leather on the toes and heels and capra wine leather for the middle. And I added a metallic gold lining to make them feel even fancier. They arrived about three weeks later and I couldn't be happier with the stunning colour and rich materials.
The Final Verdict: All three websites left me with unique, high-quality shoes that are comfortable and fit well. The price point is a bit high, especially if you're generally pleased with the high street styles available. But for women who have hard-to-fit feet or a very specific idea of what they want, this is a brilliant option. For special occasions, like your wedding, it's a solution that offers an individual and extra special shoe. And for any shoe lovers who have a birthday coming up, a gift card could be the perfect (and super generous) gift.
Celebrity news, beauty, fashion advice, and fascinating features, delivered straight to your inbox!
Ali Gray is an award-winning content director and digital strategist. Most recently she was the Director of Branded Content at Hearst, and helped to bridge the gap between the editorial and commercial worlds working across all Hearst brands, including ELLE, Cosmopolitan, Esquire and Harper's Bazaar. Prior to that she worked as an editor contributing to several brands such as The Telegraph, iVillage UK.