Trust in Fashion with Trish Halpin and Sadie Frost
London's most stylish turned out to support Marie Claire's editor Trish Halpin and Sadie Frost, raising funds for children's charity The Rainbow Trust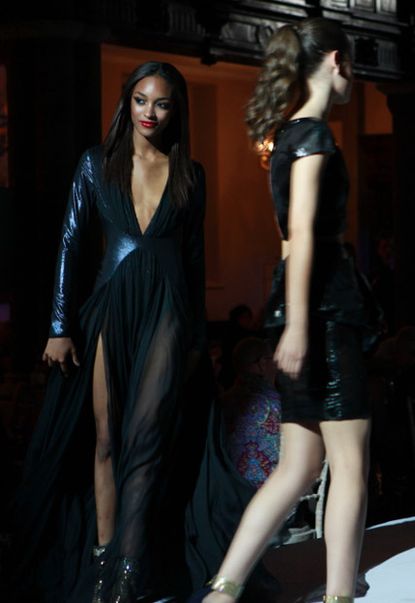 (Image credit: Cambosh)
London's most stylish turned out to support Marie Claire's editor Trish Halpin and Sadie Frost, raising funds for children's charity The Rainbow Trust
London's most stylish turned out to support Marie Claire's editor Trish Halpin and Sadie Frost, raising funds for children's charity The Rainbow Trust on Wednesday at the suitably fashionable One Mayfair.
The Rainbow Trust children's charity celebrated its 25th anniversary with a VIP launch event and catwalk show styled by Marie Claire's Holly Welch and Lucia Debieux.
New season looks from MyWardrobe, Bodyamr and Kruszynska were modeled by Storm Models including Cara Delevingne and Jourdan Dunn (we don't do things by half here at MC!).
Celebrity supporters turned out in force to help raise money with Liberty Ross, Brigette Nielson, Poppy Delevingne, Jo Wood, Zara Martin and TOWIE's Lydia Bright among the names bidding for money-can't-buy lots in the charity auction.
Special thanks goes to girl about town and fashion blogger Bip Ling who took to the decks to DJ at the event as the models showcased the hottest looks for SS11.
FOR MORE MARIE CLAIRE FASHION, CLICK HERE
The night was hosted by actress Sadie Frost and Marie Claire's editor Trish Halpin, who is also a patron of The Rainbow Trust.
'The trust does amazing work to support to families of children with life threatening or terminal illness,' explained Trish.
'As a mum of twins, I am very lucky never to have had to call on Rainbow's services, but there are plenty of families like mine that have. It's a fabulous organisation, supporting families who need that extra bit of help - from practical advice to a shoulder to cry on.'
Sadie Frost, mother of four agreed: 'It has to be every parent's worst nightmare to find out their child is seriously ill and it is something most of us can't even begin to imagine, which must make fundraising for such causes so important.'
Watch all the action from the glamorous event below and visit www.rainbowtrust.org to find out how you can help support the charity.
Celebrity news, beauty, fashion advice, and fascinating features, delivered straight to your inbox!