How To Shop Lingerie: Your Definitive Guide (Seriously, This Is Everything You Need To Know)
If you think that what lies underneath doesn't matter, you are mistaken. Lingerie is having a stylish moment right now, and from the sexiest control pants to the ultimate plunge bra, we have it covered. But where to start? Kick off 2015 in style, with the lingerie that made our heart skip a beat...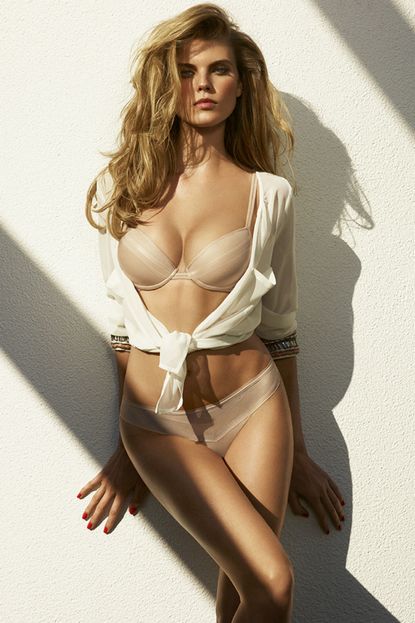 (Image credit: Chantelle)
If you think that what lies underneath doesn't matter, you are mistaken. Lingerie is having a stylish moment right now, and from the sexiest control pants to the ultimate plunge bra, we have it covered. But where to start? Kick off 2015 in style, with the lingerie that made our heart skip a beat...
It's All About The Fit
Take your time and get fitted by the professionals (your bessie mate guessing in the changing room doesn't count, gals). Ideally, you should have a fitting every six months, but if that doesn't work for you then look out for the tell tale signs.
The experts at Chantelle explain: 1. Make sure your bra sits right against the middle of your back. Any higher and you'll get that going-south effect.
2. If you notice your bra is always slipping off your shoulder, you need a smaller back size.
3. If you ever wear a bra that makes your breasts bulge out and has underwire that cuts into your skin, or if the centre piece is standing away from the body, you need a bigger cup size - and pronto.
4. If the cups look wrinkled or the underwire is too big, you need a smaller cup size. 5. Finally, look out for the back of your bra being in line with the front for the best fit, and it needs to be fastened on the loosest hook for the ideal fit.
Yes, You Do Need A Sports Bra... Look for a dedicated sports bra with actual cup sizes to get the best support. We rate Panache, not just for their juicy colour combos (that would be silly), but for the fact they banish breast bounce by a whopping 83 per cent. Most sports bras rely on compression, pressing your breasts against your ribcage (sound comfy? Erm, no.), but Panache use encapsulation to hold and support each breast, restricting movement in all directions. With cup sizes starting from a B going up to H - and starting from £38 - we are sold.
Balconette, Push-Up or Plunge?
Push up bras are so 1994. For 2015, it's all about the plunge shape, which gives the cleavage-boosting silhouette in a much more subtle way. The plunge will increase volume in the middle, whereas a balconette bra will increase volume on top. Our favourite plunge bra - from the clever people at Lepel - enhanced our cup size and then some. We were left speechless, that's all you need to know.
Yes Your Undies Can Be Clever, Comfy And Chic... It's all about the secret foam pads for 2015 - perfect for boosting cleavage. For a more comfortable fit, Triumph lead the pack with its Magic Wire collection. It has all the support of a wired bra but with no wires, plus the built in mesh stabiliser lifts without digging in. Winning.
Embrace The Glamour... Get the man in your life's pulse racing with a bold set. Suspenders will surely win your extra girlfriend points. We love the vintage inspired floral sets from Gossard, as the design and fit scream high end. And if you want something really special? It has got to be Agent Provocateur.
Alternatively, if anyone can teach us a thing or two about glamour, it's femme fatale Dita Von Teese. As you would expect, her collection is full of vintage-inspired cuts and colours with sweetheart necklines, detailed shoulder straps and retro suspender styles. Find it at ASOS.
Try Some Secret Support...
Monica Harrington is Triumph's Product Fit Expert and knows underwear - and after 22 years in the business, she's our go-to lady. 'If you have a smaller cup, go for a triangle shape with secret underwire,' she says. 'You still get the volume in your bust with the support but not the 'hello boys' effect. The Helena Christensen collection for Triumph has the perfect set.
'On the flip side, if have more than you would like and are keen to flatten your bust, non-padded bras like these styles with secret underwire are perfect for the larger bust too.'
The One That Gets Rid Of Back Fat...
It seems no matter what our shape or size, we are prone to back fat. According to Julia Mercer, Fit Expert at M&S, the issue can be made worse if your underband is too tight. 'The best way to check that a bra is fitting correctly is to lift the arms up and twist the body, the bra shouldn't move and stay in place at all times'.
We say, go for a wider backed bra with a wide winged detail which will help smooth any lumps and bumps. We found the best one to be from the ' Sumptuously Soft' range at M&S. It might not be the most exciting of product but the soft natural shape gives great support and is virtually invisible underneath clothes. Failing that try Spanx with their Bra-llelujah style but also their new Pillow Cup bras. Developed with 3D technology don't cha know. Fancy. How it works? The ultra-sonic seams will streamline your silhouette, while the scooped ballerina style back design keeps straps in place, and the back smoothing effect. Winning.
Because Big Pants Are Back...
The only way to work this season's sheer trend, as seen at Alberta Ferretti and No.21, is with a high waisted knicker. Stylish and pretty darn comfortable, too. Eres solved our big pant dilemma. Look out for the lacy styles to get extra style points but if they are a little out of your price range Next does a affordable alternative.
When You Want To Be On Trend...
The sports trend is back for SS15, so look out for more luxe finishes like mesh, silk and neoprene coming through for lingerie in the spring. According to Maria Williams, Swimwear and Lingerie Buyer at Net A Porter.com: 'Sportswear is making a comeback. Calvin Klein has reissued its nineties favourite, the crop top, and La Perla has the perfect racer back bra sorted.' So we can have our underwear as cool as our outerwear then. Boom!
Flirty And Fun Are The Perfect Pairing To A Fuller Bust...
Contrary to what you may think, lingerie that is for a fuller, bigger cup size isn't all wide straps in unflattering beige shades. Freya has come up trumps with its pretty designs for 2015 without a boulder holder strap in sight. We find they deliver the best fit and selection for the busty gals out there. Specialising in designing for larger bra cup sizes, if you're over a C cup, these are the guys for you. In sizes C - J cup, find them online at Figleaves or freya.com, Panache, Elomi and Curvy Kate are also our go-to lingerie brands that celebrate your curves.
The Celebrity Stylist's Must-Have...
Celebrity stylist Angie Smith swears by 'Waspies'. We are talking a corset-style piece that cinches in the waist and creates the perfect hourglass shape. The must-have in her stylist kit, Angie uses this piece time and time again on the red carpet. In real life, it's perfect for that fancy frock that just needs a extra something to pull your shape in. We especially like new brand on the block Grace and Wilde, plus the old faithfuls Spanx.
The Celebrity Collab We Actually Want To Wear...
Agent Provocateur has bagged the Cruz sisters again. Monica Cruz and Penelope Cruz have teamed up with Agent Provocateur Creative Director Sarah Shotton for the S/S15 L'Agent Collection. The collection is full of prints, lace and fun colour combos. We heart. Find L'Agent in Selfridges, Harrods and online at Avenue32.
Basics Don't Have To Be Boring...
To get the most out of your lingerie you need to think of it in terms of occasions. You wouldn't wear your running trainers to work, so your lingerie has to have the same rules. Before you go shopping, take a good look and fill in any gaps accordingly. We say every good lingerie drawer has to have fashion as well as function covered.
A must-have for function has to be the strapless bra, they should feel really firm on your underband and have exactly the right size cups.Yes you do need one - if you're above a B cup, you should always have some support. Our favourite go-to brand is Gossard. Its EgoBoost style corners both the push-up and strapless market. Believe us, these two together are hard to find, but the top secret technology means that you have all the support, plus a wow cleavage. Not far behind, though, are Intimissimi. With a deep V at the front, it means you can wear plunge front tops without showing your bra, plus it gives great shape. Look to old faithfuls M&S too for super comfortable strapless sets.
But What About The Control Pants That Fit Like A Glove?
As well as your strapless bra you can emphasise your best bits with control underwear (yes, we mean Spanx!). No, they're not sexy but they take inches off and wont suffocate you. Be careful when pulling them on and off, and take your time - putting your finger through them is never chic. Their latest invention is the 'Undie-Tectable' collection, bringing a whole new take on the VPL idea. Look out for elastic free edges which disappear on the body for a totally invisible look. On the high street, we rate Boux Avenue's collection of control wear. If you're more of a no VPL kinda gal, then stick with nude for an invisible look. For second skin comfort, try Huit and Maison Lejaby.
For Beautiful Bridal Underwear...
Looking for luxurious Italian fabrics with hand made elements and intricate detailing for your big day? Look no further than La Perla. Obvs. It's all gorgeous. If you're after something sexy but stylish to show off on your wedding night, put these on your wishlist, pronto. For something more affordable, the Alice Temperley at John Lewis collection is oh-so-chic, proving that you don't have to break the bank to look fabulous on your big day.
Invest In A Designer Set...
Fashion editor favourite Stella McCartney pulls us in every season with her delicious ready-to-wear designs on the catwalks, but for those of you who didn't know, Stella designs underwear too. Famous for creating the thinnest and lightest collections on the market, her pieces are super-comfortable. A mixture of innovative and cutting edge technology has her one step ahead, and in line with her commitment to sustainability, signature gold hardware is made from recycled materials and organic cotton gussets feature throughout. Inspired by ready-to-wear, we love the painted dots and leopard print pieces with lace edging.
Feeling Brave? Go For A Bold Set...
One of summer's biggest trends, sheer clothing is gaining momentum. We're seeing it in cropped camisoles at Asos, graphic printed full skirts with sheer panels at Next and see-through blouses on the catwalk at Burberry. But what to wear underneath? Go for a balconette or plunge bra, as these are prettier in style than the humble tee shirt bra, or a statement set. Brands like Huit, Agent Provocateur and Intimissimi all cover this girly ground. We love the nude sheer detailing on Intimissimi's styles...
It's All About The After-Care...
It sounds boring and like far too much hard work, but treat yourself to a pretty laundry bag (if not, an old pillow case will do!) and start as you mean to go on. If you must use the machine, pop your undies in the bag and close the hooks on your bra it doesn't catch on anything. If you feel your smalls need some extra care, hand washing is the way forward. This is the only way to properly protect the underwires and ensure your luxe lingerie lasts longer.
We like to store our bras with matching pants, looped together for speedy dressing.
The Fashion Editor's Favourite...
This is the bra that you do want to flash. Yes, really. Its all about the erogenous zone this Summer (hello sexy shoulders and low cut deep V knits, as seen at Altuzarra and Alexander Wang). But which bra to choose? We'd suggest the triangle shape every time. Make sure there are no wires (try Calvin Klein or Cos) and go for a super-soft girly vibe. Neon trim anyone? For a more statement fun and flirty set try Damaris.
The Mummy Must-Have...
Because new mothers deserve beautiful lingerie, too. We tried and tested, and have to say Stella McCartney came up trumps. We loved the supportive, fuss-free unhooking style - plus it's super pretty. Mimi Holiday came in a close second with a functional design and pretty, satin finish. Who said maternity bras have to be mumsy?
Now it's time to start shopping. Here are our favourite 50 luxe lingerie sets...
Celebrity news, beauty, fashion advice, and fascinating features, delivered straight to your inbox!