7 Things We Learnt From Paris Haute Couture Week
The world's most expensive wardrobe possibilities were premiered this week in Paris – but what does it all mean?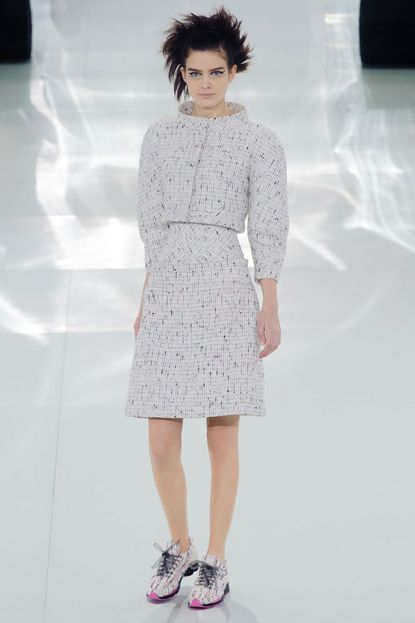 The world's most expensive wardrobe possibilities were premiered this week in Paris – but what does it all mean?
1. Ditch the stems
Seminal work on the status quo of footwear happened this week in Paris. Raf Simons covered his monochrome slip-on trainers with multi-hued jewels, whilst Karl Lagerfeld had every single model exit in his tulle-covered runners. (FYI: Chanel's couture trainers are available to order – £3K a pair – but you can only purchase them with a whole couture look. This is quite possibly our favourite fact ever).
But, but, but: something else happened that almost overshadowed trainer-on-a-couture-catwalk-gate. The never knowingly underdressed uber pairing of Anna Della Russo and Carine Roitfeld both turned up to the Schiaparelli show in, deep breath, FLAT BOOTS. These are women who have done a bare leg and stiletto in the snow. And it wasn't even raining that day in Paris! We have so many questions. Did they compare notes first? Is this a combined forces attack on the heel? We don't know. But we're excited. Onwards in your flats girls! May we never totter again.
The couture trainers at Chanel could be yours for 3K, or could they?
Dior flats covered in multi-hued jewels - What's not to love?
Anna Della Russo and Carine Roitfeld in flats? Well, we'll be damned.
2. Donatella loves Grace
What's not to adore about a collection created in homage to the living legend that is Grace Jones? We've been draping our scarves over our heads and asking the rest of the office to pull up to our bumper ever since we saw Karlie Kloss slink down the catwalk in her deep purple hooded, oversized collar, giant coat fabulosity. It's almost too much.
3. Viktor and Rolf are playing with our minds
Only this pair could dream up rubberised latex flesh-coloured dresses worn by ballerinas from the Dutch National Ballet. The hair might be giving us slight nightmares (it's a little bit Freddy Krueger just woke me up) but we're very transfixed by the is-it-a-tattoo or is-it-part-of-the-dress (it's the dress) and has-that-skirt-slipped or is-it-all-tied-together? Cheeky.
4. You need to remember the name Marco Zannini
He is the Italian-Swede who latterly revitalized the house of Rochas (Lena Dunham wore a yummy crystal drenched look from his final collection at the recent NYC Girls premiere) and is now in the hottest of all fashion hot seats, assuming the mantle of she who invented shocking pink and lobster-on-head-hats, Elsa Schiaparelli. Taking on a legend who inspires Miuccia Prada is no small task, not to mention there have been decades of anticipation for this show (the first Schiap outing since 1954). But what was anyone to worry about! Zannini was careful to pay homage to the past but not slavishly re-issue what had gone before. It was varied and playful and set out a good stall for his role at the house. Plus lots of the models were in a thong flat (see point one). He also gave model Nika Cole Grace Coddington hair. For that alone we bow down.
5. Raf Simons is having a whale of a time at Christian Dior
Boy, oh, boy has Mr S got into his stride! The gentle beauty of this collection was quite beguiling. It was all sweetness and light – and ultimately, modern and fresh. See the cut-out details painstakingly made, the crisp monochrome pairings, the futuristically chic silver loafers. If we owned a house, we'd definitely be remortgaging it to get a piece of this.
6. Karl loves a curve
Aside from the trainers (let's just take another moment to think about those trainers, sigh, sigh, sigh) what we really loved about this Chanel collection was the quiet celebration of the hourglass shape – and also – practical use of a crop top (i.e. without having to reveal actual flesh – on a personal level this is a soothing styling note). We're very taken with this pink and black cropped take on a skirt suit with lace body underneath. Another note: bodysuits – having a moment? So much to think about.
7. Maison Martin Margiela have taken recycling to a whole new level
Nothing is ever what it seems at a MMM show. And, for that, we are truly thankful – who wants clothes to be just, er, clothes. We like a little intellectual exercise with our sartorial summing up, makes us feel like that degree was worth the bother after all. So, to MMM's Artisanal collection – whereby many of the pieces were created from bric-a-brac and reconstituted artworks and textiles (think 1920s Bauhaus tapestries re-worked into a coat, 1930s silk scarves becoming a pencil skirt). The uniqueness of such pieces surely makes them the most couture of all couture, if the idea still persists that the commissioning of these garments ensures the purchaser a true one-off piece, MMM are surely the purest purveryors of this artistry. Also, we just think it all looks so magical. Oh clothes! Such joy you bring us. Thanks ever so.
Celebrity news, beauty, fashion advice, and fascinating features, delivered straight to your inbox!